'American Idol' Producers Keeping Nicki Minaj on Board Despite Feud With Mariah Carey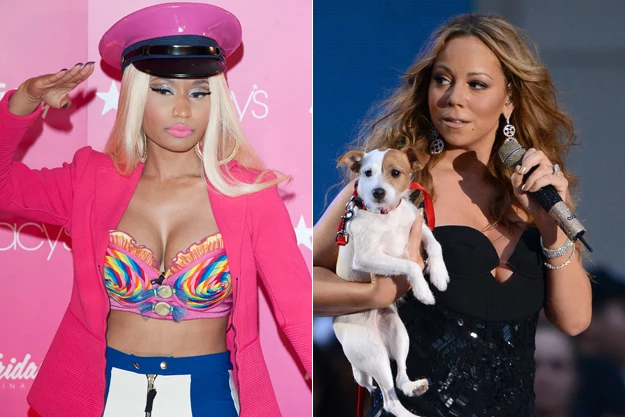 'American Idol' executives are denying that Nicki Minaj will be fired following her on-camera spat with fellow judge Mariah Carey— and more details are coming out about the beef between the two divas.
In a statement released Friday (via Entertainment Tonight), 'Idol' producers said, "Despite all the accusations and media speculation — much of which is inaccurate — production is going extremely well today and the judges are focused on finding the best talent here in Baton Rouge." They continued, "This is one of the best, most passionate, dynamic and invested judging panels we've ever had. We love and support all of the judges and the fantastic work they are doing, and we can't imagine a better group to find the next 'American Idol!'"
Apparently, Minaj and Carey's bad blood goes way back. A pal of Carey's, B. Scott, who was present on the set of the duo's video for 'Up Out My Face,' tattled to TMZ that Minaj has been giving Mimi attitude for a while. "Mariah went out of her way to be nice to Nicki and make her comfortable," Scott told the website. But apparently Minaj repaid her by "making faces at her [Mariah] laced with rude comments under her breath." Scott insists he blew the whistle on Nicki's attitude, but that Carey acted like nothing happened to avoid drama.
However, a source close to Minaj is skeptical of B. Scott, saying, "He works as Mariah's stunt double and of course he would say things like that. He's worked for her for years."
Meanwhile, Nick Cannon — aka Mariah Carey's husband — spoke out on the feud once more. "It's not a big deal at all," Cannon scoffed. "It's been overly sensationalized. I know the media feeds into it, but hopefully it'll focus on what's important, where everyone wants to strive for their dreams."
Though insiders close to the 'American Idol' set insist the feud isn't for ratings, one person doubts that: Former judge Steven Tyler. When TMZ cameras asked him if he thinks Ryan Seacrest and Co. fabricated the feud, he replied, "Of course! Are you kidding?!" He also confirmed that the panel isn't for him, telling paps, "I ain't never going back!"
Watch Nick Cannon's Reaction to Mariah Carey + Nicki Minaj's Feud
Watch Steven Tyler Talk About Mariah Carey + Nicki Minaj's Feud



Source:
'American Idol' Producers Keeping Nicki Minaj on Board Despite Feud With Mariah Carey