Kesha Talks Celeb Crushes, 'My Crazy Beautiful Life' + Her Ideal Party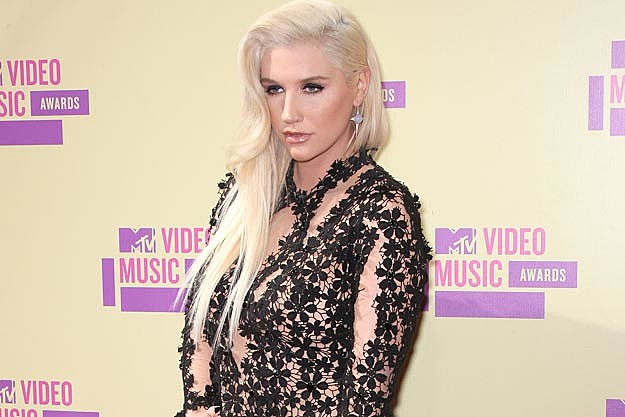 Kesha, our flawless, glittery cannibal queen, chatted with The Sun about everything from her celeb crushes, her book, her album 'Warrior' and the world's biggest bed. — which she insists that she has.
Kesha's memoir, 'My Crazy Beautiful Life,' hits shelves Nov. 20″It's a memoir but it's like a photo book," Kesha explained. "There's pictures on almost every page. I wanted to tell the real story from me, show people the pictures that have never been seen by anybody else. They've been in my basement since I was little. I went through them with my mom, we spent a lot of time digging through old stuff."
K-Dollar-Sign also teased a few pages from the book on her Twitter page, much to the delight of her beloved Animals.
The only things Kesha loves more than her Animals are, well, animals. She dished on becoming an ambassador for the Humane Society. "It meant so, so much as I've always loved animals since I was little," she said of her title — the first of its kind. "I just feel super connected to them. The most enlightening thing I can do is be around animals. I just love them, my heart melts."
Animals are what kept Kesha sane following a really hectic period of constant touring. "I did a tour followed by another tour, and then after that I was about to lose my mind, so I needed to spend some time alone," she revealed about her downtime between albums. "I told everyone to get lost and kind of went on a bit of a spiritual journey. I lived on a boat for a little while, went swimming with whales, went to South Africa and spent time with animals."
Despite her love for critters, Kesha doesn't necessarily dislike people who wear fur — though she'd never do it herself. "I don't condemn people for their choices but my own personal choice is that I prefer to wear fake fur," she said. "I'm actually working on my own fake fur line. There are so many options that are very real-feeling and looking that aren't harming the animal, so it's a no-brainer for me."
Kesha's other biggest love, aside from music and animals (and Animals)? Obviously, you can take the girl out of the party, but you can't take the party out of the girl. What's her ideal party like?
"I love house parties," she gushed. "I have a house that's in the woods so I invite people over. I invited the Flaming Lips over recently. I'd never met them before but they brought a van full of the band, and within 20 minutes I'm giving Wayne Coyne his first tattoo on his foot with my tattoo machine," she said. "Ben Folds gave me a glittery grand piano so we're all like sitting round playing this piano tattooing each other. I have a salt water pool with laser beams in it and body paint and the world's biggest bed. It was a good party." That sounds pretty epic, doesn't it?
As for other loves in Kesha's life, she has two celeb crushes — one girl crush and one regular crush. "I have the biggest crush on Florence Welch. I met her at Coachella and was like, 'Wow!'"
She described her love life as "eventful, adventurous and always a good time," but had a hard time picking out a particular famous guy she digs. "I don't know," she admitted. "Who's cute? Ryan Gosling?" Yes, Kesha. Yes, he is.
One guy in particular gets her starstruck, though not in a romantic way: Iggy Pop, with whom she collaborated on 'Dirty Love.' "
"I'm a huge Iggy fan!" she said. "I grew up on the Stooges. Iggy is the epitome of punk rock — he's a god. I started off just loving his records and then I started watching live footage of him. He's such an animal on stage, I love it." She had to have loved it to use her affectionate term for the guy. "Then I started reading about his life and he's just so nuts through everything," she added. "After I reached out to him, I made it my mission to get him on a song with me before I die, and in my relentless stalking, I have succeeded."
And then some! "He recorded topless," she admitted. "He's got a great body. I've never been starstruck in my whole life, but the second I was about to meet him I realized how monumental it was for me and my career, and I broke down like a little b—- and started crying. It was so what I'm not supposed to do." Watch the Kesha 'Die Young' Video

Source:
Kesha Talks Celeb Crushes, 'My Crazy Beautiful Life' + Her Ideal Party