Selena Gomez Dishes on Her Love Life, Her Style + Being a Role Model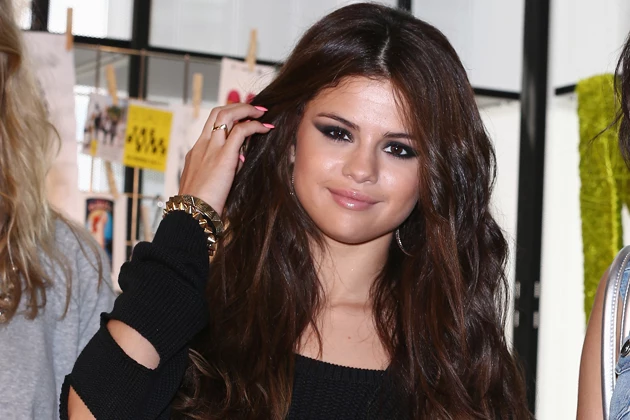 Selena Gomez knows that the world is watching her.
The 'Come + Get It' singer, as a result, is guarded and careful when she speaks to press — or anyone. In a new interview to promote 'Stars Dance,' she dished on Justin Bieber and her prior relationships, but she was super careful not to mention anyone by name (aside from her BFFs Taylor Swift and Demi Lovato) … because she knows the whole world is paying attention.
She spoke with The Guardian about her public relationship with Bieber and explained, "Sure, I knew people would talk about it. But I can't be afraid to live my life. I had my first 'boyfriend' [Nick Jonas], which wasn't really a boyfriend, at 14, 15," she revealed. "You're young and you don't know how to be. You don't think: 'Now I have a boyfriend – let's keep it super-private and low key,' because that's not what you're thinking about. You're thinking about: 'Oh my God, we're holding hands!' You're just thinking about stuff like that. Everybody falls in love and you would never want to hide something you're so happy about," she enthused. "But I've learned a lot. You keep the things that are super-private to yourself. I definitely want to do that now. But it's so hard."
As far as living in the spotlight, Gomez readily admits that it's actually normal for her. "It's all I've ever known," she said. "And I don't know if that's sad, but it's my life. So I don't know. I still feel very normal and just like a Texas girl, but then this is how I grew up, in this industry. I don't really know any different."
She's a Texas girl, but she's also a woman. But don't be fooled: She knows she's got a baby face, and that it helps her. "In acting it's definitely a good thing that I look younger because I can play younger roles," she explained. "But, at the same time, I'm becoming a young woman and wanting to dress more mature and getting comfortable in my own body. I'm very conscious that everything is being watched, and so I have to respect that. I'm not going to do anything wearing just a piece of tape." Ouch! Is that a Miley Cyrus dig?
Still, despite only ever knowing fame and fandom and photographers, Gomez still sometimes wishes she had a normal life. "There'll be days where I'm not bothered at all and I can just go out with my friends to the movies or walk around the park," she said. "But when it gets frustrating, that's when I call Taylor. Or Demi," she revealed. "Sometimes it will just be, like: 'Urgh, people are talking about me!' But then it feels gross [to complain], because it comes with what I love to do."

Source:
Selena Gomez Dishes on Her Love Life, Her Style + Being a Role Model