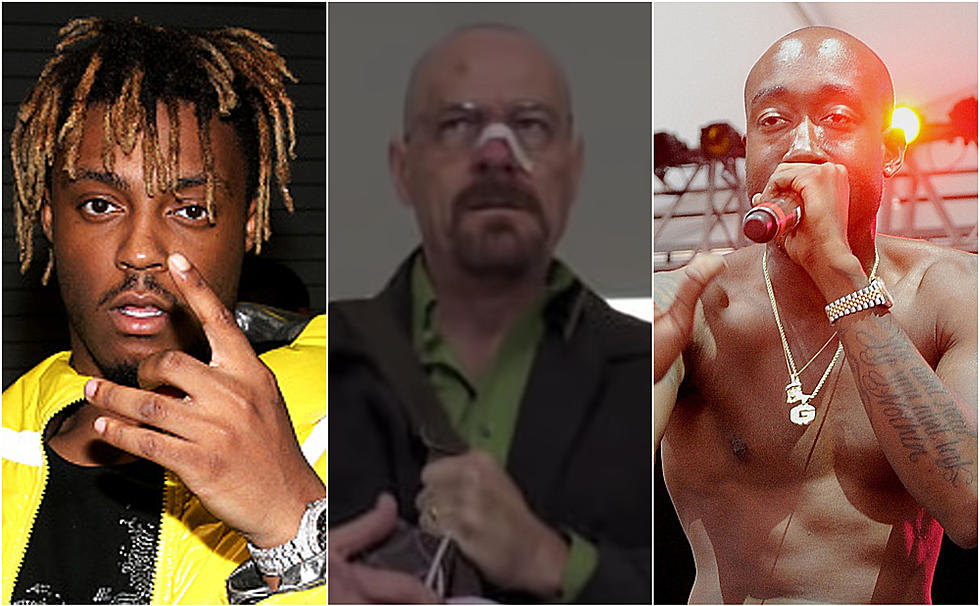 20 Hip-Hop Lyrics That Name-Drop Breaking Bad
Bennett Raglin / Brad Barket, Getty Images (2)
Hip-hop has always had love for pop culture—it's the perfect fodder to give a punchline widespread appeal. As such, Breaking Bad, one of the most critically acclaimed TV shows of all time, has popped up in quite a few rap verses.
The show is based on an Albuquerque, N.M. science teacher named Walter White, who becomes a meth dealer to fund the treatment for his sudden lung cancer diagnosis and take care of his family. This huge change in lifestyle tears at the fabric of his family and friendships, while Walter changes from a kind-but-brash father to an ice-cold drug kingpin. His assistant is Jesse Pinkman, one of his former students who helps him cook meth, while struggling with the reality of trying to survive in the underworld. The show is set to return as a movie (El Camino: A Breaking Bad Movie) Oct. 11, on Netflix and in theaters. So, there's no better time to highlight some of the rappers—and certified Breaking Bad stans—who have shown the show love over the years.
Breaking Bad's popularity, thanks to the show's excellent acting and writing, has definitely landed on rappers' radars, including legends like E-40 and The Wu-Tang Clan and newer names like Juice Wrld and Tyler, The Creator. Chamillionaire even dropped a song titled "Watching Breaking Bad." XXL highlights some bars about the show, from plays on the show's title to the names of characters.
"She tells me love is breaking bad, no crystal meth/She said this shit is suicide, don't kill yourself"

"Half Manne Half Cocaine"

Freddie Gibbs and Madlib

"Half man, half cocaine/Sent sixty pounds of Walter White, to White Plains"

"Young boy got dope for a quiet nerd/I am rap game Walter White/You might get killed thinking that he all polite"

"Congregation"

Talib Kweli and Z-Trip Featuring Ab-Soul and Black Thought

"Bring the rain, praying to the Lord for it to pour tonight/Bring the pain, fucking with that meth, I'm on that Walter White"

"We just breaking bad and my brother serving Walter White/Hope he ain't caught with that possession like a poltergeist"

"Untouchable"

Childish Gambino

"You bitches don't like shit, and it's kinda sad/I like food, sex, clothes, watching Breaking Bad"

"Ruckus in B Minor"

Wu-Tang Clan

"With the son of anarchy, I be breaking bad/Walking dead, day dreaming of making a band"

"The Dark (Trinity)"

The Roots Featuring Greg Porn and Dice Raw

"Breaking bad, making bad/Choices out here thinking fast/Smoking wet and drinking bad/Soaking wet and sinking fast"

"I guess this nigga fuckin' with that meth on some Wu shit/Not Method Man, that Breaking Bad-Heisenberg blue shit"

"Killer like your neighbour, I'm as nice as everybody seems/We just breaking bad and my brother serving Walter White"

"Turnin' my money over and flippin' it like a acrobat/I got more TracFones than Saul from Breaking Bad"

"Don't Do Drugs Kids"

Flatbush Zombies

"Ain't no heart in the music, it's all device/In the lab cooking work like Walter White"

"Born Stunna (Remix)"

Birdman Featuring Lil Wayne, Rick Ross and Nicki Minaj

"Bitch I'm Tuco, I'm too cold / Come put ya neck in my loophole" —Lil Wayne

"Cowboy"

Tyler, The Creator

"Wolf Haley got more methods than Pinkman/I'm never civil, fuck Lincoln, 'Preme out the bag it's no wrinkles"

"To buy the bar get everybody drinkin'/People looking salty must be smokin' Jesse Pinkman"

"E.D.G.E."

Little Simz Featuring Josh Arce and Chuck20

"I been, up till late watching Breaking Bad and eating biscuits/When I got uni work that I still ain't finished" —Little Simz

"Rounds"

Kid Ink Featuring Fabolous and Jeremih

"The minute I'ma take you back/Turn that ass 'round, break your back/Gotta good girl high, I'm breaking bad/Hit corners to the crib like the breaks is bad" —Kid Ink

"Bundy & Sincere"

Freddie Gibbs and Curren$y

"Walter White, walk the wheat/Cookin' up that Jesse Pink/Niggas'll open up they mouth to talk some shit/But they don't often eat" —Freddie Gibbs

Ghostface Killah and BadBadNotGood

"The bleach is chemistry, teachers cooking meth
I got a meth in my click, Johnny Blaze 'em to death"

"Step back, click clack, my stacks of cash make/Walter White look like, I got the pure vocab, dark specialist/Starky be the A1 chemist/The pure have your face all numb just like a dentist" —Ghostface Killah

"Break bread, watch Breaking Bad/Always there when I break up bad"