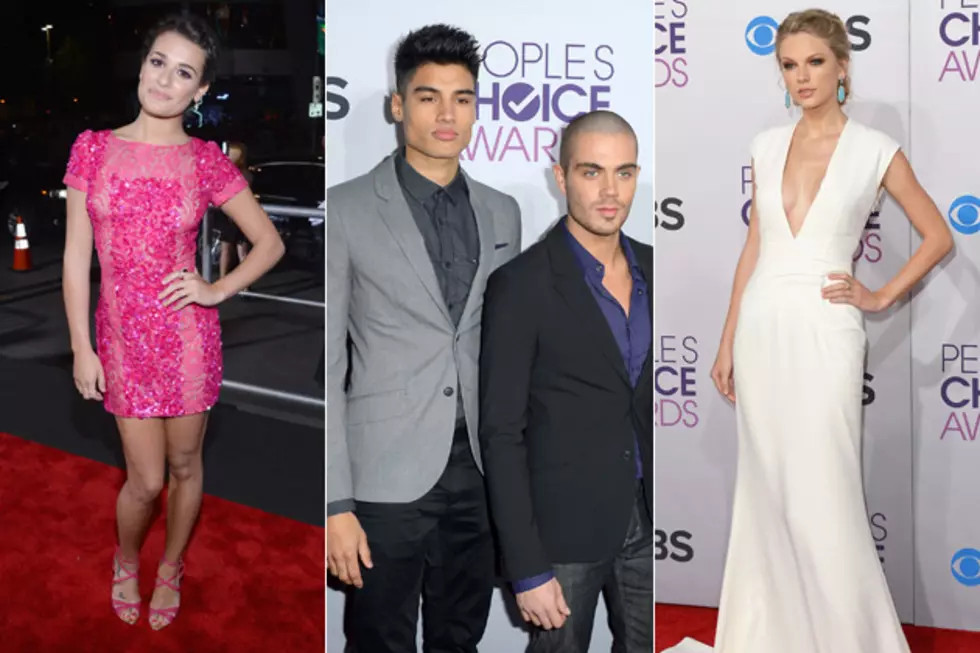 2013 People's Choice Awards Red Carpet Pictures
Jason Kempin / Frazer Harrison / Jason Merritt, Getty Images
One Direction member Harry Styles must've been kicking himself after getting a glimpse of Taylor Swift on the red carpet at the 2013 People's Choice Awards. As you can see in these red carpet pictures, Swift looks smokin' hot in her low-cut white gown, showing off more cleavage than she ever dared to before.
Meanwhile, the fellas from the Wanted looked cool and casual in their color-coordinated pants and suit jackets. On a side note -- what if one of the womanizing bachelors of the Wanted set their eyes on the newly single Taylor? Seriously, it'd be hard not to hit on her in a dress like that! Wouldn't that just really take the whole 1D vs. Wanted rivalry to an all-time-high?
Earlier on the red carpet, Lea Michele, aka Rachel Berry on 'Glee,' walked the red carpet in an adorable, bright pink cocktail dress. The semi-sheer, sexy mini was covered in elaborate beading and showed off Michele's killer legs, which she topped off perfectly with a pair of strappy pink stilettos.
Check out these red carpet pictures from the 2013 People's Choice Awards, also including photos of Maroon 5 hottie Adam Levine, and let us know what you think of these looks in the comment below!