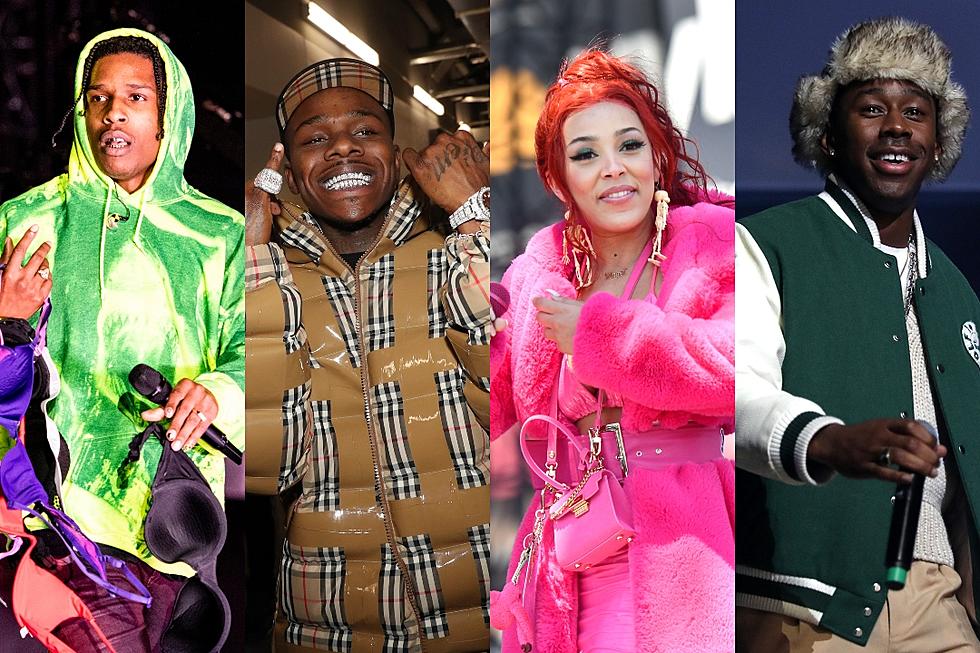 50 of the Best Hip-Hop Music Videos of 2019
Timothy Norris / Johnny Nunez / Scott Dudelson / Lia Toby/BFC, WireImage (2), Getty Images (2)
Who was the king (or queen) of the hip-hop music video in 2019? There were lots of contenders. DaBaby's visuals recalled the days of Busta Rhymes' cartoonish, Hype Williams-directed flicks. Doja Cat served up fruit fetishists. Lil Nas X made a movie to accompany the biggest song of the year. All in all, rappers pushed their creative limits in 2019.
Hip-hop videos have created new stars in front of and behind the camera this year, also helping veterans shine. It's no easy task to choose 50 great music videos out of a field of many more, but XXL made it happen, highlighting the best of the best in one place.
Some of the year's strongest videos keep things on the serious side. 21 Savage's "A Lot," which features a guest verse from J. Cole, showed the two dapper rappers rhyming about inner-city strife. DJ Khaled's visual for the Father of Asahd single "Higher" is a beautiful send-off for late rapper Nipsey Hussle, who filmed the video just days before his tragic murder in March. And Joyner Lucas continued his streak of stirring up controversy with his brutally honest "Devil's Work" video, in which he wishes death on what he deems society's undesirables.
That isn't to say that hip-hop didn't let its hair down this year. Junglepussy's "I'm in Love" will have you in full-on stitches. Stunna 4 Vegas' "Ashley" and Tyga's "Ayy Macarena" hilariously nod to 1990s classics The Fresh Prince of Bel-Air and Jim Carrey's The Mask, respectively. Missy Elliott's grand comeback to the music video space, "Throw it Back" is just as wild and warped as her previous iconic videography. And DaBaby's goofy-but-gangsta shtick built his appeal as one of the year's most promising and successful Freshmen.
All in all, there were plenty of hip-hop videos released this year that are worth your time. Check out 50 of them below and enjoy. You're welcome.
"A Lot"

21 Savage Featuring J. Cole

"Ashley"

Stunna 4 Vegas Featuring DaBaby

"Big Ole Freak"

Megan Thee Stallion

"Black Balloons"

Denzel Curry Featuring GoldLink and Twelve'Len

"Boasty"

Wiley, Sean Paul and Stefflon Don Featuring Idris Elba

"Clout"

Offset Featuring Cardi B

"Devil's Work"

Joyner Lucas

"Earfquake"

Tyler, The Creator

"Expensify This"

2 Chainz Featuring Adam Scott

"Faucet Failure"

Ski Mask The Slump God

"Goin Bad"

Meek Mill Featuring Drake

"Higher"

DJ Khaled Featuring Nipsey Hussle and John Legend

"Homicide"

Logic Featuring Eminem

"Hot"

Young Thug Featuring Gunna and Travis Scott

"Ibtihaj"

Rapsody Featuring D'Angelo and GZA

"Juicy (Remix)"

Doja Cat Featuring Tyga

"Kids Turned Out Fine"

A$AP Rocky

"Lightskin Lil Wayne"

Tyga

"Mixed Personalities"

YNW Melly Featuring Kanye West

"No Guidance"

Chris Brown Featuring Drake

"Numb Numb Juice"

ScHoolboy Q

"Old Town Road (Remix)"

Lil Nas X Featuring Billy Ray Cyrus

"Sally Walker"

Iggy Azalea

"Soho"

Boogie Featuring J.ID

"Somebody Named Frank"

Rebstar

"Thoughts & Prayers"

Narcy

"Throw It Back"

Missy Elliott

"Tia Tamera"

Doja Cat Featuring Rico Nasty

"U Say"

Goldlink Featuring Tyler, The Creator and Jay Prince

"Unfiltered"

Open Mike Eagle and Danny Brown