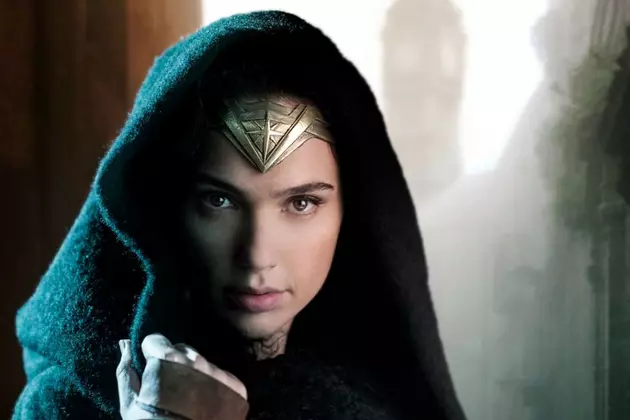 'Batman vs. Superman' Star Gal Gadot Says Wonder Woman Isn't There for the Men
Warner Bros.
Ever since Warner Bros. revealed that first promo image of Gal Gadot's Wonder Woman at Comic-Con a couple of years ago, we've been anxiously waiting for our chance to see her on the big screen. The trailers have only gotten us more excited, as Gadot's superhero looks to be one of the most interesting things about Batman v Superman: Dawn of Justice. And although she's making her debut in a movie about two other iconic superheroes, Gadot wants fans to know that Wonder Woman isn't there to support those guys or service their story.
Gadot has been filming the Wonder Woman solo movie, but she'll make her debut in Batman v Superman in just a few weeks. She may have a supporting role in a film headlined by two super-men, but as the actress tells Glamour in a really great new interview, that concept made it all the more important to present Wonder Woman as an independent, self-sufficient woman and hero:
For BvS it was important for me that we show how independent she is. She is not relying on a man, and she's not there because of a love story. She's not there to serve someone else.

She has so many strengths and powers, but at the end of the day she's a woman with a lot of emotional intelligence. She's loving. And it's all her heart—that's her strength. I think women are amazing for being able to show what they feel. I admire women who do. I think it's a mistake when women cover their emotions to look tough. I say let's own who we are and use it as a strength.
As Gadot notes, Wonder Woman may be powerful and strong, but her greatest power is her heart. I really like the idea of taking something that's typically viewed as a weakness in women (emotions, empathy) and turning it into a strength — because, let's be real here, those qualities are much more valuable than Superman's alien powers or Batman's piles of money and gadgets. Those qualities must be learned and earned.
The rest of the interview is also a great read — Gadot discusses feminism, the way the role has helped her connect with her daughter and the criticisms from fans when her casting was first announced. Speaking of which, she also has a cool story about Zack Snyder approaching her for the role:
I was in this weird career phase, going back and forth from Tel Aviv to Los Angeles for auditions. I kept getting pretty far—multiple callbacks, camera tests—then it would be a no. Over and over. I was like, "God, Yaron, maybe I should quit." Then my agent called and said Warner Brothers wanted to audition me for something.

 

Zack [Snyder, the director] called before I met with Ben Affleck. He said, "I don't know if you have this in Tel Aviv, but…have you ever heard of Wonder Woman?" My jaw dropped. I tried to sound nonchalant, like, "Oh yeah, Wonder Woman, sure." [Laughs.]
Gadot joins Ben Affleck's Dark Knight and Henry Cavill's Man of Steel in Batman v Superman: Dawn of Justice, which hits theaters on March 25. Wonder Woman arrives on June 23, 2017.
The Coolest DC Movie Easter Eggs (So Far)