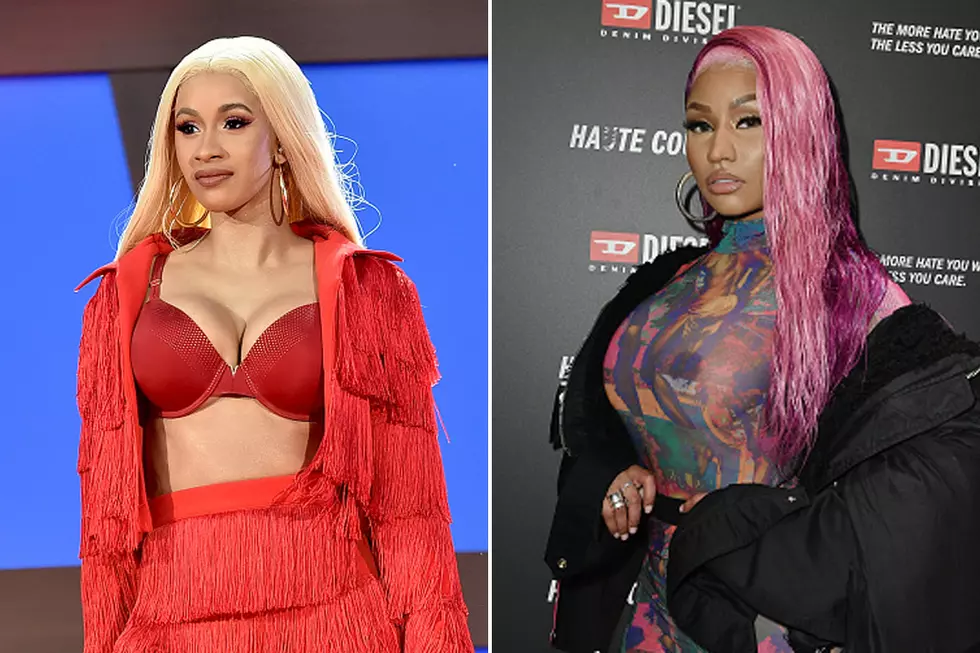 Cardi B and Nicki Minaj Win Big at 2018 MTV Europe Music Awards
Theo Wargo/Jacopo Raule, Getty Images (2)
As their viral beef lingers, Cardi B and Nicki Minaj continue to get big wins in the worlds of fashion and music. Last night (Nov. 4), the MTV Europe Music Awards went down in Spain, and both rap superstars took home trophies.
For her part, Nicki took home awards like Best Look, a category that that also included Cardi B, Migos, Post Malone and Dua Lipa. She also won a trophy for Best Hip-Hop, securing a W over Drake, Eminem and Migos in the process.
Meanwhile, Bardi, who recently appeared on El Alfa's new song "Mi Mami," took home the award for Best New Act. Jessie Reyez was also nominated for the trophy. Minaj also hit the stage to perform at the MTV EMU. The Young Money rapper joined forces with Little Mix to bring their collaboration "Woman Like Me" for the first time.
During her recent Instagram rant about Nicki Minaj, Cardi B stated that she actually has the opportunity to jump on the aforementioned record with Little Mix before they offered it to Minaj.
According to Cardi, she had to turn the opportunity down "because I'm doing a lot of pop records, so I can't, you know, over-exaggerate myself, but that came to me first and then they gave it to you." That's when she proceeded to pull up audio of said song with open space for her verse.
Congratulations to both Nicki Minaj and Cardi B for winning awards at the 2018 MTV EMU's! Check out Nicki's look below, and watch her perform "Woman Like Me" with Little Mix for yourself in the video beneath that.
See Photos of Nicki Minaj's Different Looks Over the Years