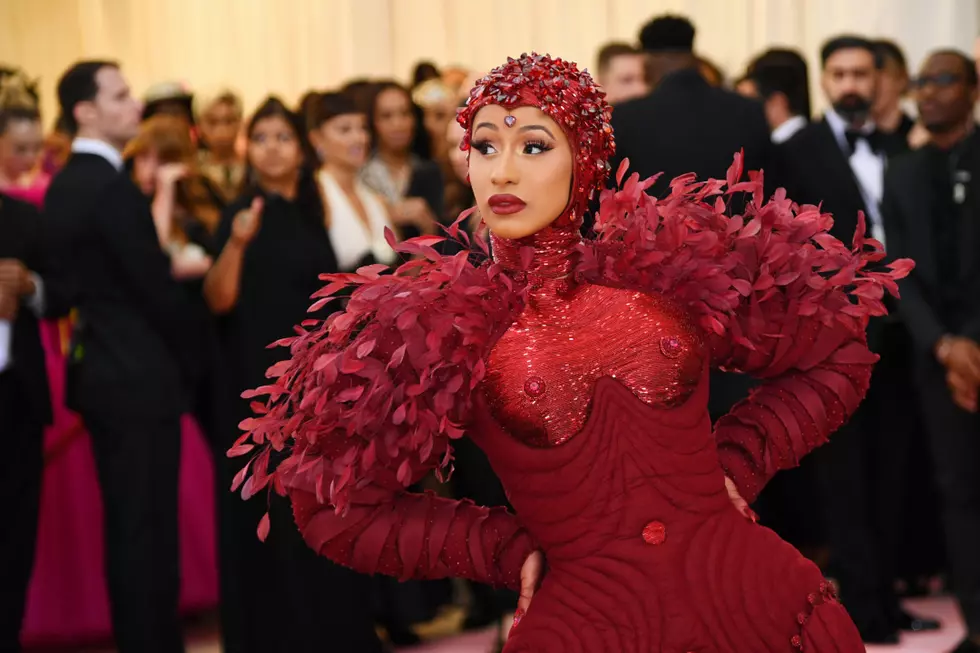 Cardi B's Ruby Nipples on Her Met Gala Dress Cost $500,000
Dimitrios Kambouris , Getty Images
The ruby red nipples that complemented Cardi B's stunning 2019 Met Gala dress apparently cost her $500,000 alone.
In a video interview Vogue published Monday (May 6), the Bronx spitta explains the lavish jewels that sat on top of her Thom Browne-designed silk and organza gown featured 44-carat rubies. The custom-made rubies on her boobies were crafted by jewelry designer Corina Mihaila Larpin's luxe jewelry brand Stefere, and cost her $250,000 each.
"These are Ruby nipples by Stefere. $250,000 each," Cardi explains to Liza Koshy. "If I lose one of these, I'm gonna have to sell one of my Birkin bags."
The ruby bra is all apart of her extravagant gown, which includes an enormous 10-foot train, hand-embroidered bugle beads and 30,000 burned and dyed feathers. A crystal-encrusted headpiece by milliner Stephen Jones and pebbled leather platform brogues completed her jaw-dropping look. According to The Hollywood Reporter, it took 35 people over 2,000 hours to create.
In addition to Bardi's eye-popping dress, other rappers pulled up to the annual gala to celebrate its "Camp" theme. Kanye West and Kim Kardashian also hit the red carpet in a fit that strayed away from this year's theme. Meanwhile, 21 Savage, Nicki Minaj, French Montana, Travis Scott and Anderson .Paak all invaded the red carpet to flex their inner fashion icon as well.
Watch Cardi B talk about her $500,000 ruby nipples below.
See Cardi B, Kanye West and More Attend the 2019 Met Gala