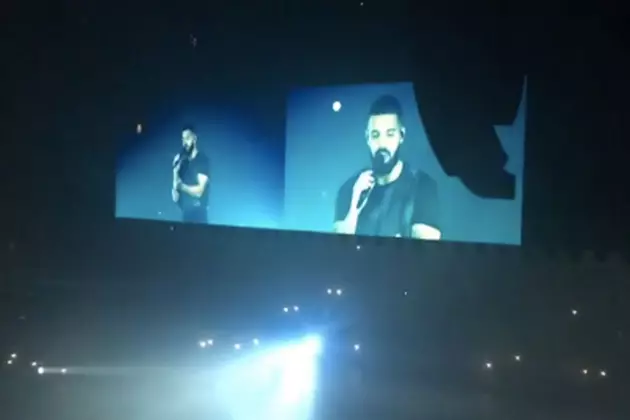 Drake and Migos Bring the Energy With Surprise Performance From Cardi B at New York Tour Stop
XXL
"It is no place on planet Earth like New York City on a muthafuckin' Saturday night, y'all," Drake yelled out to the sea of screaming fans surrounding him as he hit the stage at Madison Square Garden in New York City on Saturday night (Aug. 25). For residents of the Big Apple, the statement rings true when the streets are jumping but inside MSG, the energy was just as live as Migos and Drizzy treated fans to electric sets that also included a surprise Cardi B performance for day two of their seven-night Aubrey and The Three Migos New York tour run.
Before Migos hit the stage by 7:45 p.m., OVO Sound signee Roy Woods welcomed concert-goers settling into their seats in the arena as the tour opener, performing songs from his 2017 album, Say Less.
As Quavo, Offset and Takeoff graced the stage, dressed in bold coveralls (Quavo in black and yellow, Offset in blue and white and Takeoff in camo and orange), the crowd screamed at a deafening roar while DJ Durel kicked things off with their 2013 hit "Hannah Montana." For the next hour, the Atlanta rappers moved through more than 15 songs from their catalog, hitting tracks from 2013's Y.R.N. (Young Rich Niggas) through their third studio album, Culture II. The state-of-the-art set design, which seemed to take up the entire floor of MSG, gave a nod to their recent album, with the roman numerals for two positioned on either side of a massive square LED screen showing Migos-centered visuals.
"Pipe It Up," "Freak No More," "Fight Night," "Slippery," "Kelly Price," "Ice Tray," "Ric Flair," "T-Shirt" and "Bad and Boujee" were just some of the songs fans witnessed live and direct. Offset broke out in a two-step on more than one occasion, Quavo kept the crowd engaged with memorable Migos moments ("If you got love for your mama, say "Mama") and Takeoff commanded the crowd when it was his turn on the mic. Migos are only going higher from here.
When Drake walked out around 9:15 p.m., the Toronto rapper was met with booming applause and rousing screams from the New York City audience. His chart-topping album, Scorpion, was the centerpiece of the night, with Drizzy performing "8 Out of 10" from the jump as he ran across the stage, hidden behind netting while storm clouds were projected onto it.
Once the net lifted, the MC got straight to the point with his audience. "This is what we gotta do to set it off," said Drake, dressed in all-black including an OVO vest. "I don't wanna take my time or none of that shit. I want to get straight to it. Look, I want to split the arena right down the middle." And with that, Drizzy had the left side and right sides in competition for crowd participation for the remainder of the night.
For more than an hour, Drake performed at least 40 songs (both in part and full), hitting "Talk Up," "Elevate" and "Mob Ties" off Scorpion and delivering bangers "Started From the Bottom," "Jumpman," his Gucci Mane collab "Both," "Know Yourself," "Hotline Bling," the Lil Baby collab "Yes Indeed," "Free Smoke," "Trophies," "All Me," Fetty Wap's "My Way (Remix)," "Gyalchester" and "In My Feelings," among others. The elaborate LED-lit stage changed colors and projected visuals like women swimming while fire bursts, a floating Ferrari, laser lights, an entire iPhone screen and confetti were all part of the show too.
"There's always gonna be people that try you," Drake told the crowd before performing "Elevate"—speaking from a man who's been tested publicly by Pusha-T this year. "All you got to do is believe in God and your family. I have my dad in here tonight." He proceeded to thank the crowd, all 18,000 in attendance according to Drake's calculations, for their support.
To the surprise of many by the wild screams that erupted, Migos' return to the stage was a highlight of the night when they walked back out to perform "Walk It Talk It" and "Versace" with Drizzy. Then Drake left the arena briefly to change into a whole new wardrobe—this time an all-white 'fit with an OVO vest—and that's when the night's biggest surprise came into play: a performance from Cardi B. Migos moved into "Motorsport" and when Cardi strutted onto the stage, she seemed to get even louder applause than the men of the hour. Sporting a long pink wig and a black leather dress, the Bronx bombshell delivered her first performance since giving birth to her daughter Kulture in July.
After Drake returned to the stage, he slowed things down a bit with the R&B tunes, his Michael Jackson-assisted record "Don't Matter to Me" (with an a cappella of MJ's "Rock With You" added in), "After Dark" and "Jaded" among them. But that didn't last long as he kicked things up a notch with his dance-centric tracks "One Dance" and "Controlla."
Besides treating fans to his catalog of music, the OVO leader also gave one very special fan, Austin Green, the opportunity to win $25,750 when the stage turned into a basketball court. Unfortunately, Austin, who was celebrating his bachelor party that evening, missed the free throw for $250, the 3-point shot for $500 and the half-court shot for $25,000. Though he didn't win the money, Drake gave him some reassurance: "You still gonna get drunk at your bachelor party."
As the night came to a close, with a video montage highlighting clips of how he truly started from the bottom with his team including 40, Oliver and Future appearing onscreen, Drake ended on a high note with "God's Plan" capping off the festivities. However, not before he left his loyal supporters with a lasting message.
"We just started out as some kids making music from Toronto, Canada. And somehow, someway, we made it to 18,000 people in Madison in Garden...," he shared. "No matter what they tell you on any news channel, this is how the world is supposed to work right here in Madison Square Garden... I just wanna let you know that no matter who they say is in charge of this beautiful country that we're in right now, I want you to look around and understand that tonight inside this building we've got 18,000 people from all races."
See Photos of Drake's Different Looks Over the Years