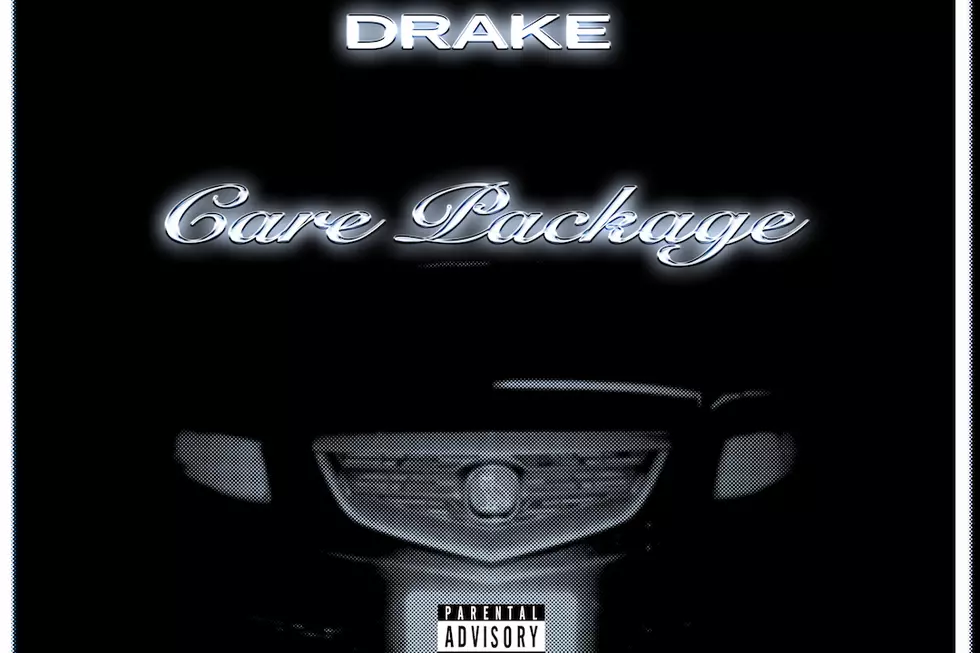 Drake 'Care Package' Album: 20 of the Best Lyrics
OVO
Since crash landing on the national radar with his 2009 mixtape, So Far Gone, Drake has evolved into one of the defining voices of his era. Consistently raising the bar with his album drops and guest spots, the OVO flag bearer has built a reputation for giving fans what they want, when they want it. This has resulted in Drizzy occasionally unleashing loosie tracks to hold fans over between full-length releases. Many of these leaks and one-off song releases are regarded as some of his best work.
As he continues to gear up for his next LP, Drake follows the example of Nas' Lost Tapes 2 and compiles some of his best loosies into Care Package, a compilation that makes these floater songs that have been released over the past decade conveniently accessible via streaming services. Boasting appearances from J. Cole, Rick Ross, James Fauntleroy and Sampha, Care Package includes both slow burning ballads and lyrical workouts, resulting in a seamless listen. The 16-track project is a pleasant surprise that is stacked with classics that finally have a proper home.
XXL sifts through Drake's Care Package to pick out 20 of the best lyrics that showcase his superb penmanship.
"Dreams Money Can Buy"

Drake

"That manual Ferrari Italia, some fly shit/It's sitting at the house like I bought it in '96/'Cause honestly I'm too fucking busy to drive stick/I swear, too fucking busy, too busy fuckin'/This nigga girl, but to me she wasn't/Been hot before they open doors for me, pre-heated oven" —Drake

"Dreams Money Can Buy"

Drake

"My newest girl from back home got issues with parents/And some charges, how the fuck can I get her to Paris?/Luckily, I'm the greatest my country's ever seen/So chances are I get the border to issue me clearance/Dreams money can buy/Everybody yelled 'Surprise,' I wasn't surprised/That's only 'cause I been waiting on it, nigga/So fuck whoever hating on a nigga" —Drake

"Yeah, always been daddy's little angel/I bought your dad a bunch of shit for Christmas, he ain't even say thank you/I had no money left from actin', I was focused on the music/I used to always try and burn you CDs of my new shit/You be like 'Who's this?' I be like 'Me, girl'/You be like 'Oh, word, true shit?'" —Drake

"'Fore you said 'You're mine' I was yours already/22, had the Bentley four-door already/Even as a boy, I was the boy already/So you know that that mean pussy galore already/Mention other girls, you get insecure already/That was in the past, I matured already/Fuck them hoes, you got the award already/You go to Chanel and get rewards already" —Drake

"Sometimes I laugh with God about how you can't stop me/I'm his darkest angel probably but he still got me/I'm gettin' mine, but still I better lives/And shit I set aside to make sure that my people getting by/Brunch with some Qatar royals and my cup is all oil/You know it's real when your niggas'll take the fall for you/All loyal so you keep eggin' me on/And we gonna have to crack a shell just to prove to you, you ain't hard-boiled" —Drake

"Know some Somalis that say we got it Wallahi/Get us donuts and coffee, we'll wait for him in the lobby/And I gotta tell him chill, Sprite got me on payroll/Let that man live, they say, 'Okay, if you say so'/See whatever I say goes, I play like I'm on 'roids, no Canseco/No Oakland A's though, shout out the Bay though/I think I'm on my eighth flow, just watch me paint flow/We all do it for the art so I could never hate though" —Drake

"Good business can clean millions, I got the vision/I been had it since 'No Scrubs' and 'No Pigeons'/Even back when I wasn't as poppin'/When they told me take an R&B nigga on the road/And I told 'em no and drew for Kendrick and Rocky/I tried to make the right choices with the world watching/'Mike never tried to rap like Pac, Pac never tried to sing like Mike'/Those my dad's words to me when I asked him how to make it in life/And I always said my mother gave the greatest advice" —Drake

"Green, white, and red on my body 'cause I'm dipped in Ferrari/All she wanna do is get high and listen to Party/She complain, I tell the driver to drop her at Barneys/My summer diet is just Rosé and calamari/Look, now you got me started/I'm the black sheep, rest in peace to Chris Farley" —Drake

"I roll big body, wide body, Calabasas road winder/Sun shinin', waxed tires/See Kris Jenner, I beep twice and I wave/The rest of you boys, I blow Keeks right in your face/Pistol by my bed, I'm sleep, but I'm awake/For that one night when niggas try reach inside my safe/Don't push me 'cause I'm way too uneasy nowadays/These guys move so greezy nowadays/I tell you my life and y'all don't believe me when I say it" —Drake

"The part I love most is they need me more than they hate me/So they never take shots, I got everybody on safety/I could load every gun with bullets that fire backwards/Probably wouldn't lose a single rapper/Niggas make threats, can't hear 'em over the laughter/Yeah, that's 'cause I'm headed to the bank, nigga/Sinatra lifestyle, I'm just bein' frank with ya/I mean, where you think she at when she ain't with ya?" —Drake

"Str8, Y pree? Why is it always me?/Got us watchin' our words like it's wiretaps on the team/'Cause I show love, never get the same outta niggas/Guess it's funny how money can make change outta niggas/For real, some nobody started feelin' himself/A couple somebodies started killin' themself/A couple albums dropped, those are still on the shelf/I bet them shits would have popped if I was willin' to help" —Drake

"Fuck them niggas this year, I made Forbes list, nigga/Fuck your list, everything's lookin' gorgeous/Without me, rap is just a bunch of orphans/But if I stay, then this shit is a bunch of corpses/And me and my dread nigga from New Orleans/Stashin' money like hoarders off multi-platinum recordings/Eatin' like I'm seated at Swish, Sotto, and Joso's/Nothing Was The Same, this shit for Ezee and Coco" —Drake

"All them boys in my will, all them boys is my Wills/Anything happen to pop, then I got you like Uncle Phil/Weezy been on that edge, you niggas just need to chill/If anything happen to Papi, might pop a nigga for real/Comin' live from the screwface, livin' out a suitcase/But I'm feelin' good, Johnny got me pushin' two plates/My weight up, I refused to wait up, I started a new race/It's funny when you think a nigga blew up after Lupe" —Drake

"Jodeci Freestyle"

Drake Featuring J. Cole

"I should run a clinic for niggas that think that they winning/On some coach shit, 50 Ms for a three-month road trip/I see straight through them like fish tanks with no fish in them/Drizzy still got some '06 in him/IRS all in my books getting they Matlock on/All this capital it's like I left the caps lock on/It's like every time I plot a return I seem to shift the game/See I can still talk keys without pitchin' cane" —Drake

"Jodeci Freestyle"

Drake Featuring J. Cole

"Your money is just a little Barney's Co-Op for you to be tryna show out/I'm in your girl's ear planting seeds like a grow-op/We move the operation to Cali soon as the snow drop/Oh stop, please stop arguin' 'bout who's the best MC/I think everyone would agree, they know that you're not/I know I'm a sure shot, middle finger poking you in your sore spot/Bars sound like I'm under oath nigga/I Comedy Central roast niggas and turn 'em to ghost niggas" —Drake

"Jodeci Freestyle"

Drake featuring J. Cole

"Hold your applause/Who gives a poker face when you jokers showed me your cards?/David and Goliath, takin' on the giants/No need for pause when I tell you my balls bigger than yours, Cole/No false gods, young Mike playin' against the Monstars/Tappin' into '94 Nas/Or that '96 Jay, or that Chronic shit, Dre/Which is really just Slim Shady, I'm silly, my pen crazy" —J. Cole

"I be with my nigga Chubbs, he in love with street shit/No wonder why I feel awkward at this Fashion Week shit/No wonder why I keep fucking up the double-cheek kiss/And long for that ignorant Young Money Miami Beach shit/Couple artists got words for me, that's never fun/They say it's on when they see me, that day don't ever come/I'm never scared, they never real, I never run/When all is said and done, more is always said than done" —Drake

"Free Spirit"

Drake Featuring Rick Ross

"Incense burning, smoking out to my own shit/Got black wood in my white Range/I'm taking off when that light change/I'm Drizzy Drake to my old bitches/Voodoo Child to my new hoes/I miss this and I want it back so I'm all in with these new flows/New flows, got new flows, rap is stress but it pays great/Pimp flows and Screw flows, my shit is sounding like grey tapes" —Drake

"Paris Morton Music"

Drake

"I hate calling the women bitches, but the bitches love it/I took some sense and made a nickel of it/I'm urging all daughters to kiss their mothers/With those lips that all that lipstick covers/You're never too grown up to miss and hug her/And girls counting on me to be there like missing rubbers/I'm on some Marvin Gaye shit, a bunch of distant lovers" —Drake

"Paris Morton Music"

Drake

"I miss Memphis, Tennessee, my cousins, my dad/The simplistic beauty that all of them Southerners have/I'm halfway across the world with dozens of bags/Feeling like all four members of Color Me Badd/In one nigga, amazing shit/I got that Courtney Love for you, that crazy shit/I don't drink every bottle I own, I be aging shit/And I got them wedding ring flows, that engaging shit" —Drake