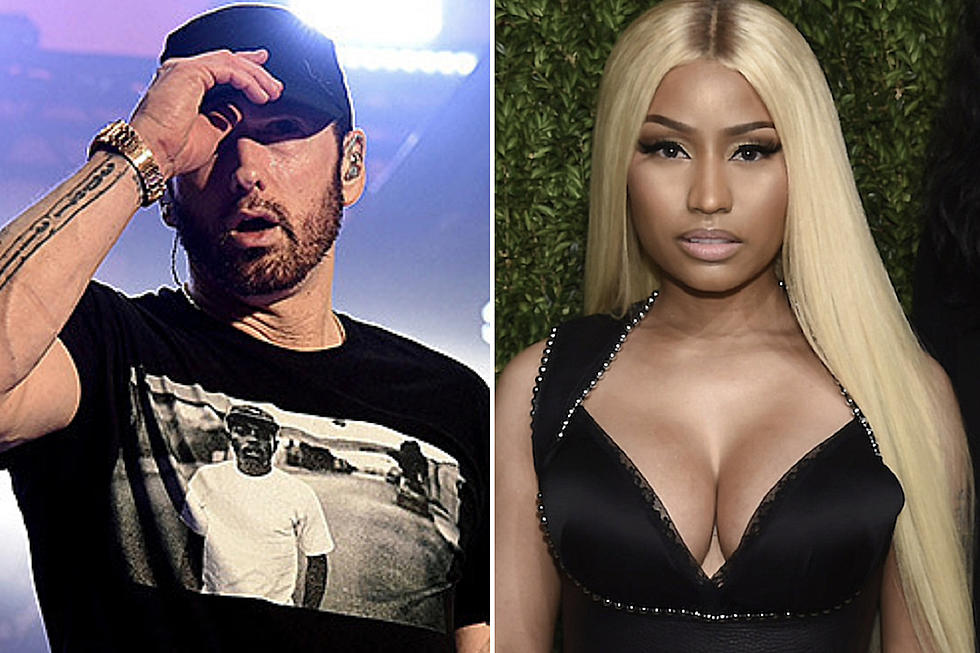 Eminem Addresses Rumors That He's Dating Nicki Minaj [VIDEO]
Kevin Winter / Dimitrios Kambouris, Getty Images
Over the weekend, rumors started circulating on social media that Eminem and Nicki Minaj were dating. It all started when one of Minaj's followers on Twitter asked her if she was dating the Rap God. She responded, "Yes."
The rumors started to kick in high gear following Minaj's appearance on YG's star-studded track "Big Bank" (featuring Big Sean and 2 Chainz) where she spits, "Told them I met Slim Shady, bag the Em / Once he go black, he'll be back again."
So are they really dating? Eminem seems to hope so but he's being vague about it.
During Slim Shady's headlining gig at Boston Calling Music Festival on Sunday night (May 27), the Detroit rapper hinted at the dating rumors with concertgoers. "Boston, how many of you want me to date Nicki Minaj?" he tells the roaring crowd. "Well, god dammit, me too. Nicki, if you get this message, just text me later, we'll talk about it."
According to TMZ, an insider close to Minaj's camp told the website that the Queen Barbz was only joking when a fan asked her if she was dating Eminem.
But if Slim Shady does want to date the "Queen," he better treat her right. The Young Money starlet went on Twitter to let her followers know that she doesn't take no shorts when it comes to relationships. Minaj encouraged her fans to know their self-worth and not take any kind of abuse in a relationship.
"#Queen, know your worth. I've been proposed to 3 times; asked by 4 boyfriends to have their child. Being emotionally, mentally, or physically abused just to crack a fake smile on the gram & show off a ring is not happiness. Being cheated on, humiliated, belittled... for the gram?" she tweeted.
"New boy asked if I could have his baby in a year & a half," she added. "On God I said: 'ain't pushin out his babies til he buy da rock.' Then I busted out laughing. He said: 'I'll put a ring on it. I'll do anything it takes.' Yet all I could think of his how much I love my new found freedom."
It looks like Nicki Minaj enjoys being single and is not ready to be locked down just yet.
10 Memorable Rapper-Pop Star Relationships