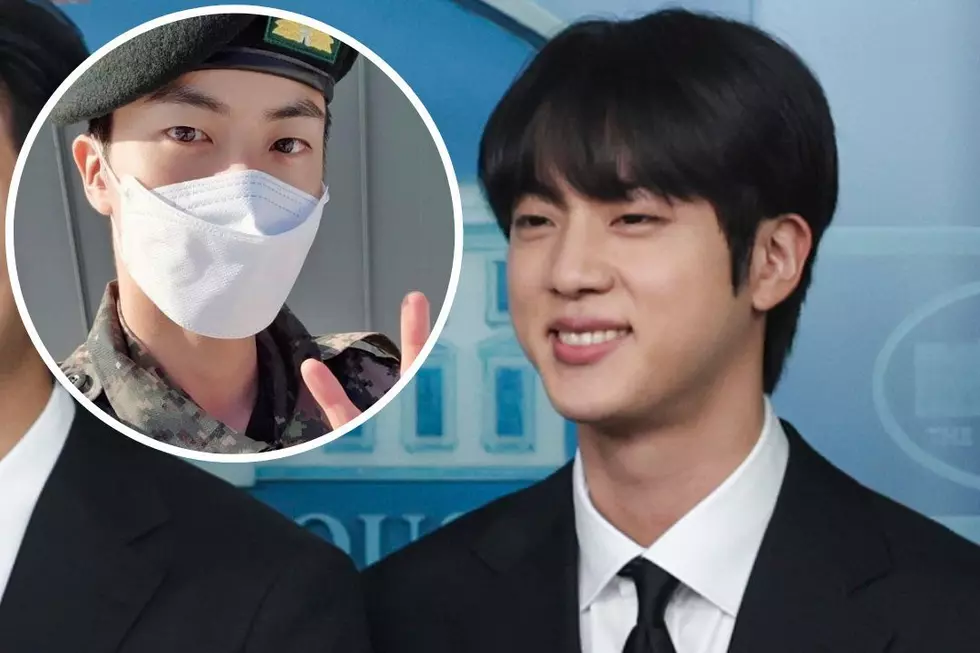 BTS' Jin Reportedly Wins Vacation After Placing First in Military Talent Show
Kevin Dietsch, Getty Images / Jin via Weverse
The charm of "Mr. Worldwide Handsome" has not dulled even in the military.
BTS superstar Jin left for mandatory South Korean military service in December 2022, and since then, the group's fans (ironically known as ARMY) have eagerly awaited any update on the performer.
According to Korean news outlet SBS, Jin recently won a military talent show, achieving first place in his unit. Apparently, the talent show was held ahead of the Lunar New Year, and naturally, Jin himself taught his team their winning choreography.
The win reportedly earned the group an extra day of vacation.
On social media, one fan joked about how the others who participated in the talent show must have felt when they realized they were competing against a world-famous idol trained in singing and dancing.
Jin's reported talent show win should come as no surprise to ARMYs, who regularly joke online about Jin's competitive streak as seen on the band's variety show, Run BTS, where the seven members often play games with and against each other.
"Jin naming his team 'KIM SEOKJIN' and winning every time no matter what episode it is," one fan tweeted about Jin's delightful competitive nature.
According to SBS, Jin enlisted in the 5th Division Recruit Training Battalion in Yeoncheon-gun, Gyeonggi-do, and completed five weeks of basic training before becoming an assistant in the recruit training center.
Following his boot camp completion ceremony, Jin shared his first official update from the military via his personal Weverse account on Jan. 18.
"I'm enjoying my life. I'm posting a picture after getting permission from the military. ARMY, be happy and take care," a translation of his post reads.
Jin also shared two selfies of himself wearing his uniform and a white mask, as well as a full body photo of him standing in his uniform.
The other members of BTS are currently exploring solo projects before they complete their mandatory enlistments, such as leader RM's recent debut solo album, Indigo. Meanwhile, J-Hope, Jimin and Suga attended Paris Fashion Week and Haute Couture Week as global ambassadors for designer brands such as Dior and Valentino.
Plus, ARMY was delighted by a recent update from youngest BTS members Jungkook and V, who revealed via a livestream that they've been gaming together.
BTS Through the Years: Photo Gallery