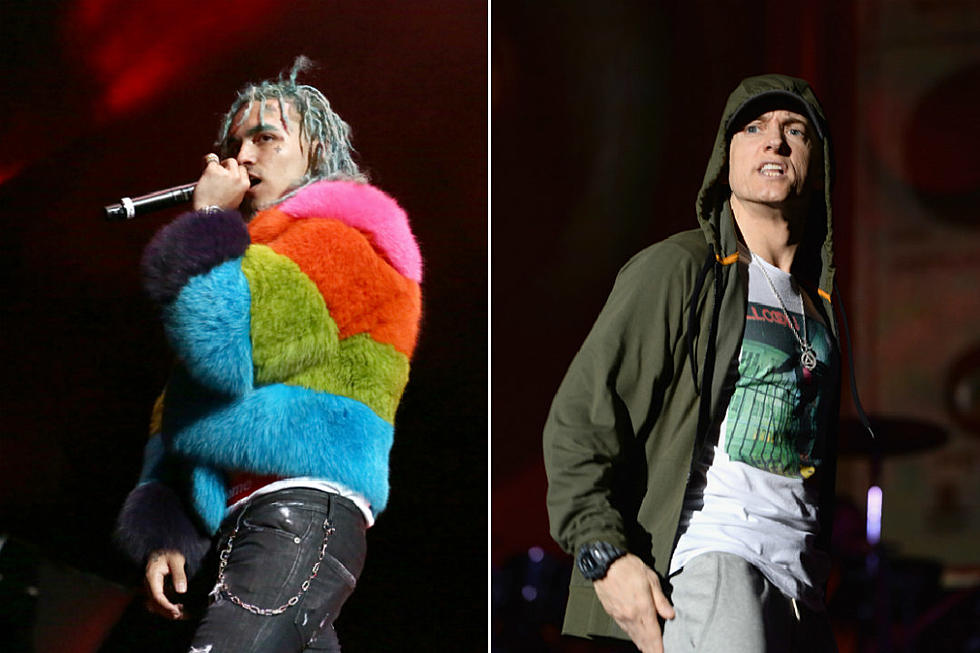 Lil Pump Thinks He Deserved Eminem's Diss on 'Kamikaze' Album
Ser Baffo / Theo Wargo, Getty Images (2)
Eminem damn near broke the internet with the release of his new Kamikaze album, which he dropped without any prior notice on Friday (Aug. 31). Added to the surprise element of the LP is the fact that Shady is naming names on this one, dissing nearly a dozen rappers and media personalities. At least one person who was called out appears to think he deserved the rap god's wrath, the unlikely candidate, Lil Pump.
Jet Ski got named-dropped on the intro song, "The Ringer," where Slim blasts rappers for sounding like Lil Wayne. Em spits, "So finger-bang, chicken wang, MGK, Iggy 'zae/Lil Pump, Lil Xan imitate Lil Wayne/I should aim at everybody in the game, pick a name."
Pump has responded to the jab on social media. Under Em's album announcement post where the Detroit rapper noted, "Tried not 2 overthink this 1... enjoy. 🖕," the South Florida artist replied, "Thank you, I deserved that," along with a heart emoji.
There's a chance Pump is being sarcastic in his response. When J. Cole appeared to call him out on "1985," the "Gucci Gang" rapper didn't exactly respond kindly. However, he and Jermaine did work their issues out, so maybe Pump has really decided to take the high road on this one.
Lil Pump is one of several people who Em dissed including, Joe Budden, Tyler, The Creator, Charlamagne Tha God, Machine Gun Kelly and more.
See Lil Pump's response to getting dissed by Eminem below.
See Photos of Lil Pump Behind the Scenes at the 2018 XXL Freshman Class Cover Shoot