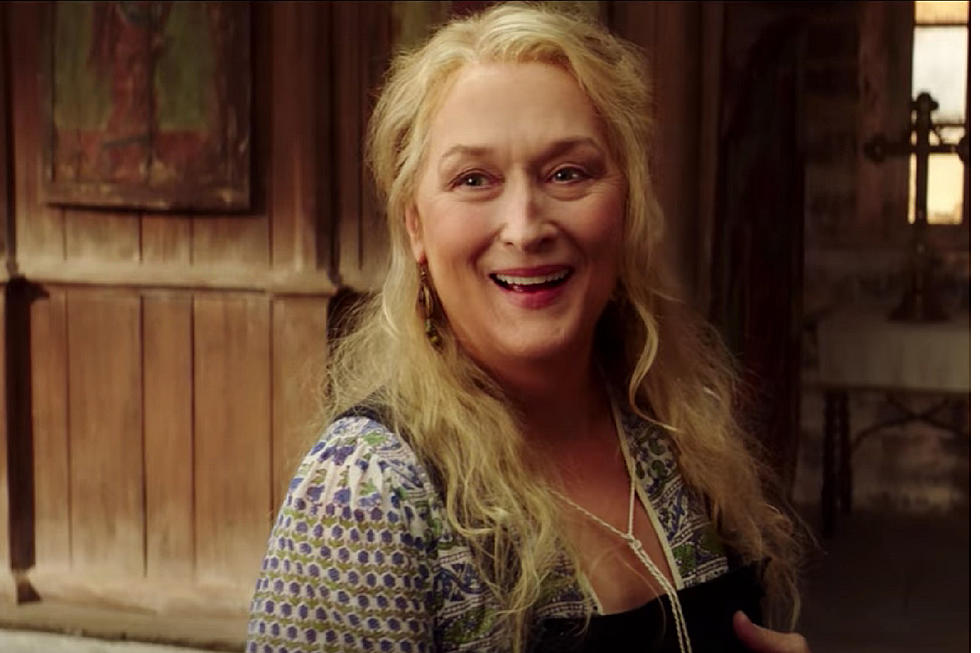 'Mamma Mia!' 2 Soundtrack: See the Full List of Abba Songs (and Who's Singing Them)
Universal Pictures, YouTube
One decade after Amanda Seyfried and Meryl Streep charmed the hearts (and ears) of moviegoers in Mamma Mia (2008), the much-anticipated sequel is finally set to hit theaters on Friday (July 20).
With it comes a few changes: Sophie (Seyfried) is now pregnant, Donna (Streep) may or may not be dead, and, of course, Cher (!!) has been added to the cast. But one thing viewers can count on staying the same? The film's ABBA-packed soundtrack.
The '70s-era Swedish pop group recorded over 120 songs throughout their career, so there were no shortage of options when it came to picking tunes for Mamma Mia! Here We Go Again. And while it does repurpose a few iconic staples from the original feature ("Dancing Queen," "Super Trouper," the titular "Mamma Mia"), it also includes several brand new covers ("I Wonder," "Why Did It Have to Be Me?" and "I've Been Waiting for You," to name a few.)
Here We Go Again's release is still a few days away, but the soundtrack is actually already out. It's available for purchase on Amazon or iTunes now, or you can check out a Spotify playlist that includes tracks from both the first Mamma Mia! and the new sequel. See the full list of Here We Go Again songs (and who's singing them) below.
"When I Kissed the Teacher" from Arrival (1976)

Sung by: Lily James, Jessica Keenan Wynn, Alexa Davies and Celia Imrie

"I Wonder (Departure)" from ABBA: The Album (1977)

Sung by: Lily James, Jessica Keenan Wynn, and Alexa Davies

"One of Us" from The Visitors (1981)

Sung by: Amanda Seyfried and Dominic Cooper

"Waterloo" from Waterloo (1974)

Sung by: Hugh Skinner and Lily James

"Why Did It Have to Be Me?" from Arrival (1976

Sung by: Josh Dylan, Lily James, and Hugh Skinner

"I Have a Dream" from Voulez-Vous (1979)

"Kisses of Fire" from Voulez-Vous (1979)

Sung by: Panos Mouzourakis

"Andante, Andante" from Super Trouper (1980)

"The Name of the Game" from ABBA: The Album (1977)

"Knowing Me, Knowing You" from Arrival (1976)

Sung by: Jeremy Irvine, Lily James, Pierce Brosnan, and Amanda Seyfried

"Angel Eyes" from Voulez-Vous (1979)

Sung by: Christine Baranski, Julie Walters, and Amanda Seyfried

"Mamma Mia" from ABBA (1977)

Sung by: Lily James, Jessica Kennan Wynn, and Alexa Davies

"Dancing Queen" from Arrival (1976)

Sung by: Colin Firth, Stellan Skarsgård, Amanda Seyfried, Christine Baranski, Julie Walters, and Pierce Brosnan

"I've Been Waiting For You" from ABBA (1975)

Sung by: Amanda Seyfried, Christine Baranski, and Julie Walters

Sung by: Cher and Andy Garcia

"My Love, My Life" from Arrival (1976)

Sung by: Amanda Seyfried, Lily James, and Meryl Streep

"Super Trouper" from Super Trouper (1980)

Sung by: Cher, Meryl Streep, Christine Baranski, Julie Walters, Pierce Brosnan, Stellan Skarsgård, Colin Firth, Andy Garcia, Amanda Seyfried, Dominic Cooper, Lily James, Jessica Kennan Wynn, Alexa Davies, Josh Dylan, Jeremy Irvine, and Hugh Skinner

"The Day Before You Came" from The Singles: The First Ten Years (1982)