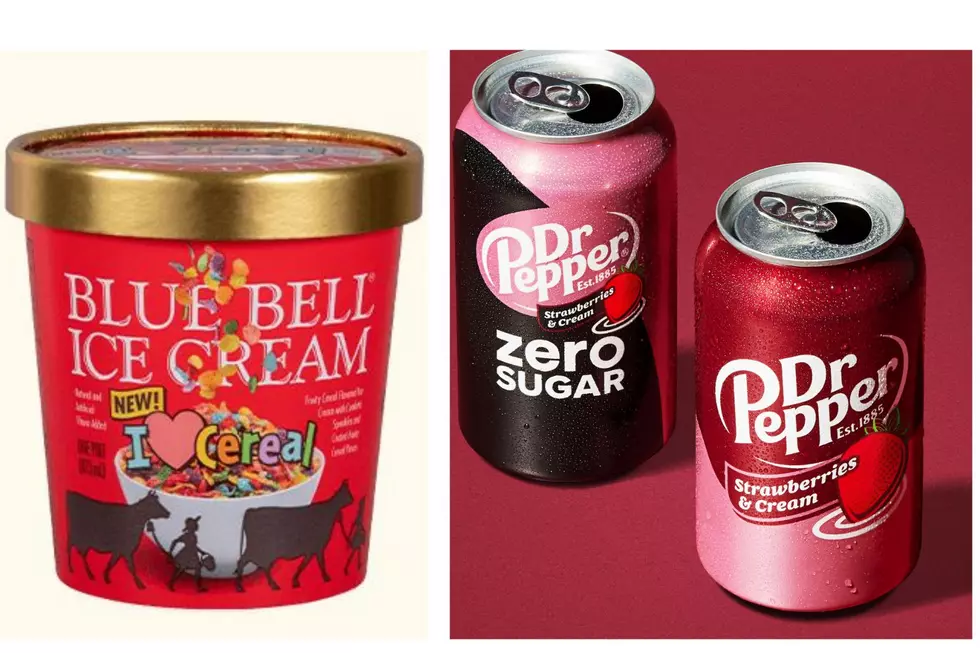 New Dr. Pepper and Blue Bell Flavors Have Been Announced
(L) Blue Bell (R) Dr Pepper
How about a story that is not about cold weather? Two iconic Texas brands are releasing new flavors. According to a press release, Dr Pepper introduced the newest flavor that will become a permanent part of their drink lineup.  The new flavor is Dr Pepper Strawberries & Cream hits shelves nationwide later this month. The new beverage treat is the original 23 flavors of Dr Pepper swirled with layers of refreshing strawberry flavor and a smooth, creamy finish.
BLUE BELL INTRODUCES A NEW FLAVOR:
Another iconic Texas Brand has also issued a new flavor. Blue Bell has issued the new 'I Love Cereal' flavor, which combines ice cream with the flavor of fruity cereal, with confetti sprinkles and coated fruity cereal pieces. Will you try either of the two new flavors?
Another Texas proud brand is Big Red.  Big Red was also born in Texas, actually, the same city as Dr Pepper, Waco, Texas.  Dr Pepper was invented by a Pharmacist, Big Red was invented by a Chemist. They both have iconic status in the State of Texas, but why does Dr Pepper get all the love? Unpopular opinion: Big Red is better than Dr Pepper! While I am at it, here is another unpopular opinion. Mi Tierra in San Antonio is mediocre Mexican food.   Below are a few fun facts about Big Red and Texas.
WHAT FLAVOR IS BIG RED?
The unique taste of the soda has been compared to everything from bubblegum to cotton candy. The real flavor is a combination of lemon and orange oil along with vanilla. Pretty simple, huh?
BARBACOA AND BIG RED FESTIVAL:
One of my favorite combos has its own festival in San Antonio. This is something that you would only find in San Antonio.   We can't wait for the Barbacoa and Big Red Festival to return in October.  Click for more information.


THE ORIGINAL NAME WAS WHAT?
Big Red started life as "Sun Tang Red Cream Soda" and then later, "Sun Tang Big Red Cream Soda" before finally being shortened to Big Red.
 WEDDING TOAST:
in San Antonio, Big Red is sometimes referred to as "East Side Champagne." In fact, it has even been used in place of a champagne toast at weddings.
BIG RED IS NOT JUST FOR DRINKING:
People have used Big Red for many different purposes including baking, curing hangovers, and attracting deer when hunting. Who knew the soda pop could do so much?
https://www.youtube.com/watch?v=uLjmpfhQ63Y
LOOK: Here are copycat recipes from 20 of the most popular fast food restaurants in America
LOOK: 15 Discontinued McDonald's Menu Items