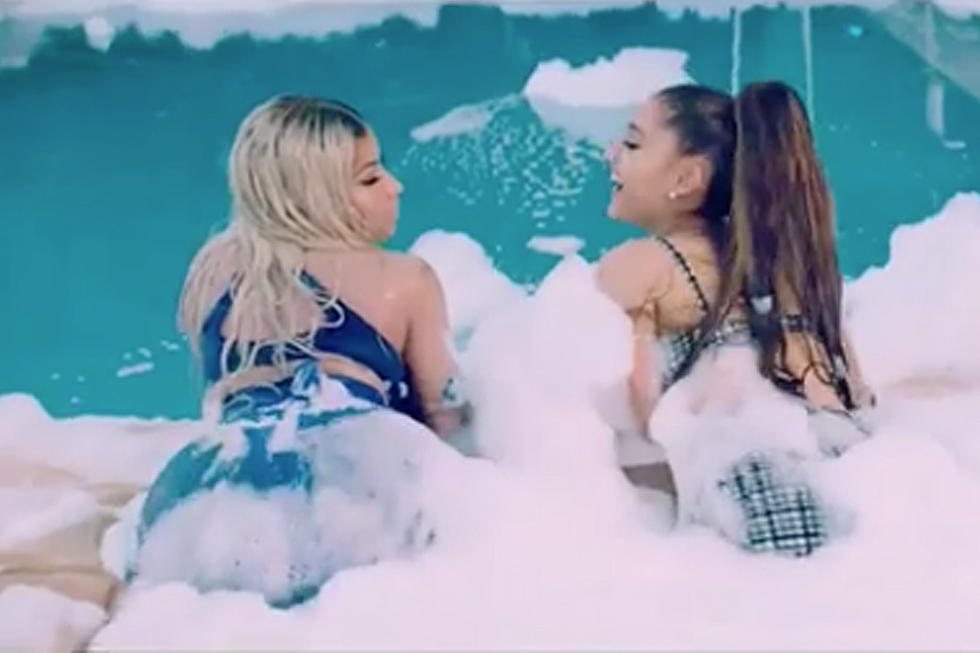 Nicki Minaj and Ariana Grande Twerk in the Pool in "Bed" Video Teaser
@nickiminaj via Instagram
Nicki Minaj and pop crooner Ariana Grande turn up the heat. Today (June 14), the same day as the release of their dope new collab, "Bed," Nicki unloaded a teaser for the track's music video.
In the teaser we can see Nicki and Ariana kicking back in the pool as their new tune soundtracks a day in the sun. Toward the very end of the clip, we see Nicki and Ariana turn their backs to the camera as they begin twerking. The moment comes up as Nicki makes a reference to Lil Wayne's Tha Carter III single, "A Milli."
"I got Carter III on repeat/Back shots to the beat of (a milli) on you/Got me acting like you got a milli on you," Nicki raps. Apparently, as Nicki points out, the video hasn't been retouched yet, but the two wanted to put it out anyway. "You know the love is real when u send ARIANA fkng GRANDE an UNRETOUCHED #Bed snippet & she gives you the green to post it. Ugh!!!!!" she wrote in her Instagram caption.
As we said up top, "Bed" hasn't been out long, but it definitely carries the symptoms of a chart-topping hit. It wouldn't be the first uber-successful Nicki and Ariana collab. Back in 2016, the two linked up for Ariana's Dangerous Woman single, "Side to Side." The track peaked at No. 4 on the Billboard Hot 100 chart and ultimately went four times platinum. Needless to say, that's a W, and this new tune could be one too.
Check out Nicki Minaj and Ariana Grande's new "Bed" video teaser for yourself below.
See 60 Hip-Hop Albums Turning 20 in 2018