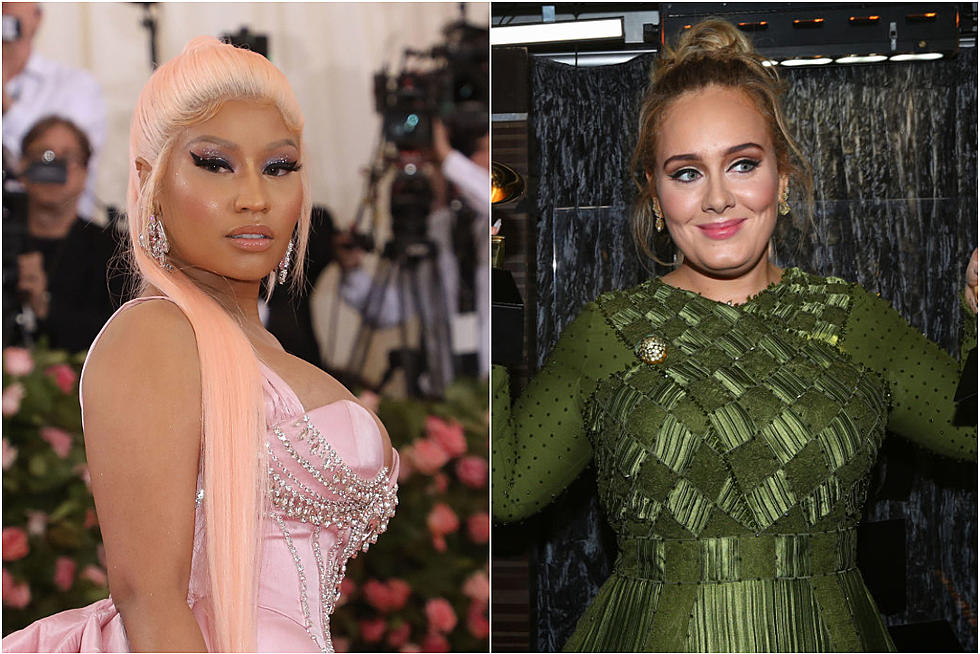 Nicki Minaj Confirms New Song With Adele
Taylor Hill/ Mark Davis, Getty Images (2)
It looks like Nicki Minaj has officially put any retirement plans on ice.
Talking to Entertainment Tonight on Tuesday (Oct. 15) the 36-year-old rapper revealed that she and Adele have collaborated together for a new song.
"Yes and yes, yes and yes, woohoo!" Nicki Minaj said to the reporter, confirming that she's worked with Adele recently. "But Adele made me swear to secrecy that I'm not allowed to tell anyone that I'm working with her," Nicki continued.  "And that we already shot a video. And it's an epic song! Ahh!"
The forthcoming single and music video are the two entertainers' first collab. However, Nicki Minaj and Adele are no strangers to each other and frequently show one another love through social media.
This news comes a little over a month after Nicki announced her retirement from hip-hop. Posting on Twitter back in September, Nicki said she was retiring in order to start a family.
"I've decided to retire & have my family," Nicki wrote. "I know you guys are happy now. To my fans, keep reppin me, do it til da death of me, :x: in the box- cuz ain't nobody checkin me," on Instagram.
Her news was met with hurt reactions from her long-time core fanbase who felt abandoned by the musician. A day later, Nicki responded to one despondent fan and admitted that her tweet was insensitive toward fans. Later that month, she began promoting "Fendi," a PnB Rock song featuring herself and Murda Beatz. Between that and her upcoming Adele collab, it looks like Nicki's any notion of Nicki hanging up her microphone should be retired.
See the 25 Longest-Charting Hip-Hop Albums in Billboard 200 History