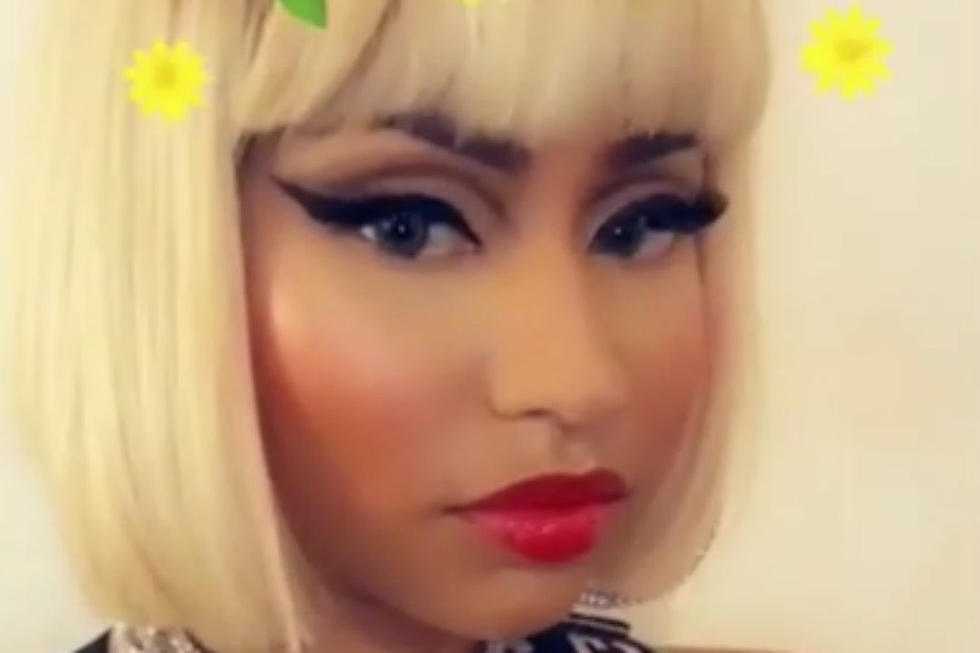 Nicki Minaj Shares Snippet of New Song Ahead of 'Queen' Album
NickiMinaj via Instagram
Nicki Minaj continues to build anticipation for her new album, Queen. On Friday (June 8), she shared a snippet of a track off the album on Instagram.
The sample is brief. In the video, Nicki poses with a flower filter atop her head as the track plays in the background. "Alice, the goon palace," she raps over a menacing track, at what appears to be the very end of the song. "You mad, doggie? You mad, doggie?" she repeats after a good laugh, referencing Cam'ron. She even shouts the Harlem rapper out in the caption.
As pointed out by Hip-Hop N More, putting the clip into the Shazam app reveals the song is called "Rich Sex" and features Lil Wayne. The snippet comes on the heels of Nicki unveiling the sexy cover art for the new album. Captured by fashion photography duo Mert and Marcus, the cover shot shows Nicki positioned on a tree branch, wearing a jewel-encrusted gold headpiece and not a lot more.
In related news, after false relationship rumors with Eminem were running rampant a few weeks ago, Nicki announced Shady might be on her new album, after hearing a clip of the rapper yelling her name during a concert. "I just found the intro to my album," she wrote in the caption of the video. "He the The sound of him screaming my name just completely confirmed to me in my head that I'm extremely & utterly afraid of Slim Shady y'all know he BEEN tf CRAZY! If he say we go together then bitch we go togeva all I did was post my lil verse y'all I swear."
Nicki's new album is now slated to drop on August 10.
Check out the snippet of Nicki's new track below.
See Photos of Nicki Minaj's Different Looks Over the Years