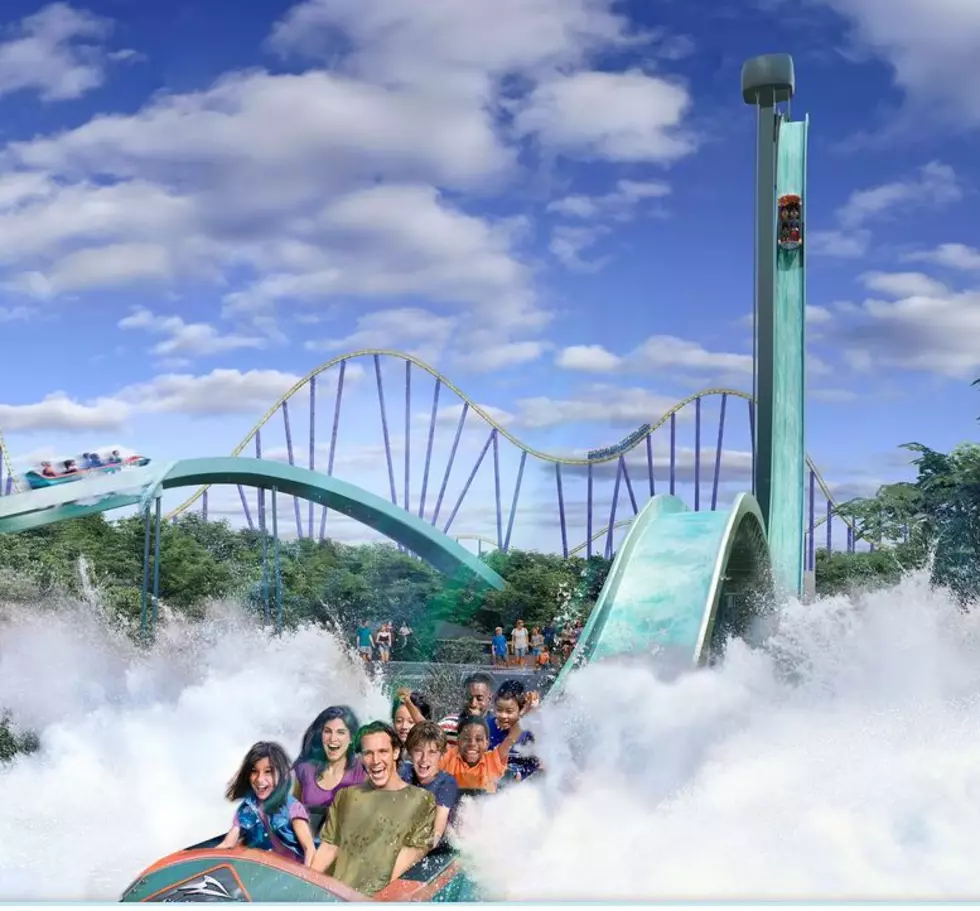 Worlds Deepest 'Plume' Coaster to Open at Sea World Next Year
seaworld.com
It seems like new rides are being introduced at theme parks more frequently. Sea World San Antonio has just announced the new ride Catapult Falls which will be the world's first launched flume coaster and the only vertical lift in North America.  Schedule to open in 2023
According to mysanantonio.com, Catapult Falls uses a state-of-the-art elevator, the only one on the continent in an attraction of this kind, to lift guests up seven feet per second to reach a height of over 55 feet. Once at the peak of the ride, the chute plummets riders at a staggering 53-degree angle into the watery splashdown at over 37 miles per hour. Check out the concept art below.
SeaWorld just opened a new attraction this year.  The new attraction is the biggest of its kind in the world and features two pendulum-like arms that will soar progressively higher and higher with each swing. Reaching speeds of 68 miles an hour and heights of 135 feet. It is called the Tidal Wave.
CHECK OUT A COUPLE OF NEWER RIDES AT SEA WORLD:
THE TEXAS STINGRAY:
This is the tallest, fastest, and longest, wooden roller coaster in the state of Texas. Texas Stingray. features a 100-foot drop, 3,379 feet of track, and a max speed of 55 mph.
WAVE BREAKER: THE RESCUE COASTER: 
While I don't consider this an extreme thrill ride it is super fun.  This ride will have you straddling a jet-ski-style car while you race out over the lake, launching 60 feet into the air through banks and turns along 2,600 feet of track. Side note: I was at Sea World when this ride got stuck and the back part of the park was shut down for a Fire Department rescue.  That was an interesting trip.
HOW ABOUT FIESTA TEXAS:
Fiesta Texas has also introduced a new thrill ride this year. DR. DIABOLICAL'S CLIFFHANGER.  The new ride is billed as the world's steepest dive roller coaster. The Cliffhanger will drop you at a  95-degree first drop, multiple inversions, and extreme airtime! Have you ridden this ride yet? Let us know in the Facebook comments of this status. 

DARE DEVIL DIVE FLYING MACHINES: 
The World's Tallest Ride of Its Kind. Experience the thrills and sensations of weightlessness through aerial banks, loops, and dives, all while seated in a retro four-seater steampunk flying machine.
THE JOKERS CARNIVAL OF CHAOS:
Carnival of Chaos, one of the world's tallest pendulum rides, NOW OPEN, stands at a record-breaking 17-stories in the air! This ride will reach speeds up to 75 miles per hour, as it whips back and forth
THE POLTERGEIST:
While this is an older ride, however, it was recently made over with a fresh coat of pain and retheming in the queue line.  At one point, I felt this ride was cursed because it was always closed and we could never ride it. However, since the remodel, the ride has been open on every visit.
JP'S FAVORITE THRILL RIDES