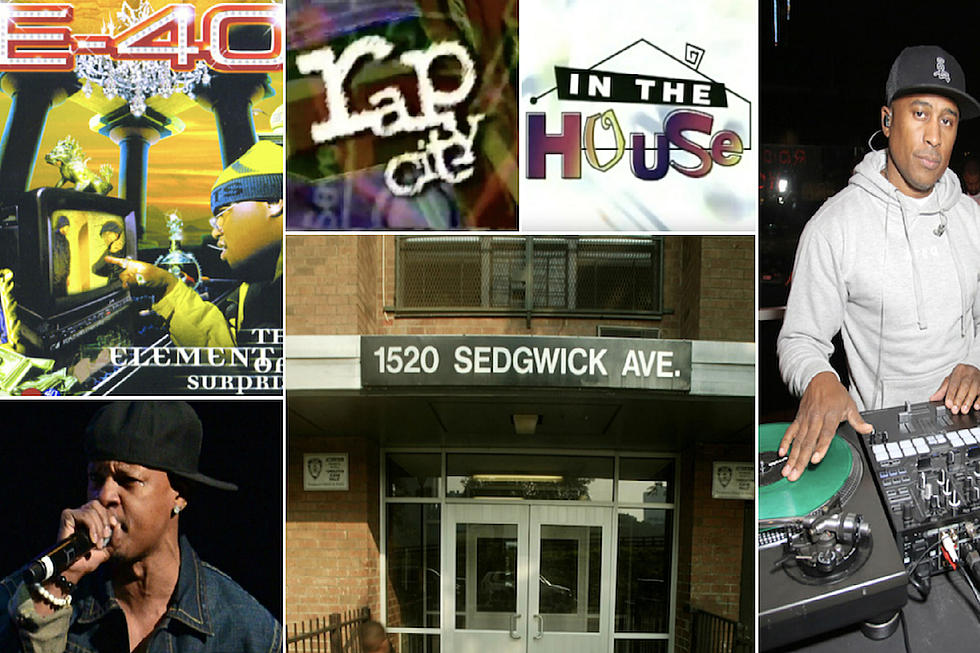 1520 Sedgwick Ave Births Hip-Hop: August 11 in Hip-Hop History
YouTube (2) / Rachel Murray / Peter Kramer / Prince Williams, Getty Images / Sick Wid It Records
On this day in hip-hop history, DJ Kool Herc held a party in the Bronx, which gave birth to hip-hop culture. Also, on this day, producer Ali Shaheed Muhammad was born, BET premiered Rap City, veteran rhymer E-40 released the double-CD The Element of Surprise and more.
1955 - Musician/Pianist Joe Jackson Is Born

On this day in 1954, David Ian "Joe" Jackson was born in Staffordshire, England. A classically-trained musician, Jackson is mostly known for his 1982 hit "Steppin' Out." The song earned him two Grammy nominations, including one for Record of the Year at the 25th annual Grammy Awards. The piano-driven tune also has been sampled in hip-hop, most notably by the late and great producer J Dilla on the intro to Quasimoto's "Hydrant Game (Jaylib Remix)."

1970 - Producer Ali Shaheed Muhammad Is Born

Sixteen years later, Ali Shaheed Muhammad was born in Brooklyn, N.Y. The veteran producer and musician is one of the founding members of the influential hip-hop group A Tribe Called Quest. The collective includes Q-Tip, Jarobi White and the late Phife Dawg. In addition to ATCQ, Muhammad is a prolific producer in the music industry. In 2000, he formed the R&B supergroup Lucy Pearl with former En Vogue lead singer Dawn Robinson and singer Raphael Saadiq of Tony! Toni! Toné! fame. The group only released one album before disbanding. Muhammad production credits include D'Angelo's "Brown Sugar," Jon B.'s "Cool Relax," Mos Def's "Got" and many others.

Currently, Muhammad along with musician Adrian Younge provide the music for Netflix's popular superhero series Marvel's Luke Cage and its accompanying soundtrack. "We really wanted to make the music for a television show as great as a film score," Shaheed told Billboard about making music for Luke Cage. "Outside of that body of work, we both have been making music that has been greatly received over the years. It was definitely gratifying knowing that we hit our goal and that people really supported the music aspect of Luke Cage just as much as the show itself."

Muhammad and Younge also collaborated on their own album The Midnight Hour, which boasts guest appearances from Marsha Ambrosius, Bilal, Ladybug Mecca and CeeLo Green, and includes a jazzy remix of Luther Vandross classic ballad "So Amazing."

1970 - Chris Kelly (of Kris Kross Fame) Is Born

On the same day as Ali, Chris Kelly was born in Atlanta, Ga. Kelly was one-half of '90s rap duo Kris Kross. Kelly (aka "Mac Daddy"), along with Chris "Daddy Mac" Smith, were only 13 years old when they achieved their first hit single "Jump" from their multi-platinum 1992 debut album, Totally Krossed Out. Among their chart-topping hits include "Warm It Up," "I Missed the Bus," "Da Bomb" and "Tonight's Da Night."

Sadly, Kelly passed away from a drug overdose on May 1, 2013. According to a coroner report, Kelly had a mixture of drugs in his system. His mother Donna Kelly Pratt told authorities that Kelly took what is known as a "speedball" — cocaine mixed with heroin.

At Kelly's funeral, producer Jermaine Dupri described Kelly as his "son that he never had." Chris Smith also remembered the fallen rapper. "I know Chris is in heaven. He was a true friend," he told mourners. "I just wanna say I love you man ... and I'm gonna miss you dearly. My life ... it ain't ever gonna be the same, but I just hope our legacy for hip-hop is never forgotten."

1973 - DJ Kool Herc Gives Birth to Hip-Hop In the Bronx

Three years after Ali and Chris were born, history was made when DJ Kool Herc (real name Clive Campbell) and his sister Cindy Campbell hosted a back to school party in the basement at 1520 Sedgwick Avenue in the Morris Heights area in the Bronx, New York. During those parties, Herc would spin on two turntables and created "the break," where he extended the song's instrumental to give people at his parties more time to dance. He also coined the terms "B-Boys" and "B-Girls" for the dancers who were break-dancing at his parties.

In Jeff Chang's informative book Can't Stop Won't Stop: A History of the Hip-Hop Generation, Cindy said the parties were created as a way for her to earn money for back-to-school clothes. "And when you go back to school, you want to go with things that nobody has so you could look nice and fresh," she said. "At the time my Neighborhood Youth Corps paycheck was like $40 a week - ha! - and they would pay you every two weeks. I mean, this is not enough money!"

Herc, who already had a house party DJ business, agreed to spin at his sister's party for a split of the profits. Clive and his friends brought the equipment down, which included two huge Shure column loudspeakers, from their second-floor apartment to the rec room below. "My system was on the dance floor, and I was in a little room watching, peeking out the door seeing how the party was going," he said.

After spinning a few dancehall tunes, Herc gave the people what they wanted, and dropped some soul and funk records. The room began to fill as people started dancing to songs by James Brown as Herc would chant a few words on the microphone. It was the success of those parties that would start a musical and cultural movement that would later be called hip-hop.

Herc's innovation would allow other DJs to take the art of DJing to innovative heights. Fellow hip-hop pioneer, DJ Grandmaster Flash would later introduce the technique of looping two records together as well as cutting and scratching to the DJ culture.

"[The power of the DJ] is to motivate the crowd, man. It's to have the insight to motivate the crowd," he told Red Bull Music Academy. "To have the crowd at your fingertips. To control the crowd. That's the best f---in' power, man."

1985 - J-Boog of B2K Is Born

Twelve years after the birth of hip-hop, Jarell Damonté Houston Sr., better known as J-Boog, was born in Compton, Calif. He is also the first cousin of R&B singer Marques Houston. J-Boog is a former member of B2K along with Omarion, Lil' Fizz and Raz-B. The R&B quartet had an impressive run during the late '90s and early 2000s. Among their chart-topping hits include "Uh Huh," "Gots Ta Be" and "Bump Bump Bump." After the group disbanded in 2004, J-Boog starred in several movies including the dance flicks Steppin: The Movie and Hype Nation-3D. Currently, the 32-year-old singer is a family man raising his three children. In 2009, he released an EP called Night Life.

1989 - Rap City Debuts on BET

In direct response to Yo! MTV Raps, BET launched their own rap video program called Rap City on this day in 1989. Created by Alvin "The Unseen VJ" Jones, Rap City profiled big-name rap stars but also focused on underground rappers who didn't have a large following as well.

Jones, who served as producer from 1989 through 1991, told Rolling Stone in 2017 that the show was born out of complaints he was hearing from rappers who said "BET's not playing our videos." The show went through a series of hosts. Comedian Chris "The Mayor" Thomas was the first host of the show from 1989 to 1991. He was followed by Hans Dobson (aka Prime) from 1989 to 1993, then it was Prince Dejour (1991–94), Joe Clair (1994–99), Leslie "Big Lez" Segar (1994–99), Darian "Big Tigger" Morgan (1998–2005), DJ Mad Linx (2005–06), J-Nicks (2005–06) and Q-45 (2006–08).

At the turn of the millennium, Rap City reinvented itself under Big Tigger's run and was re-titled Rap City: Tha Basement. By 2008, the show was competing for viewership against popular video websites like Worldstarhiphop.com. Then came along YouTube, which allowed fans to watch their favorite music videos on their computers at any time instead of their television sets.

"It's hard to compete with an infrastructure that says, 'Here's whatever video you want to watch, whenever," said Mad Linx. "It's very difficult to compete with that. I'll never forget the first time I saw YouTube. I said, 'This is going to be a problem.' Look at MTV: The 'M' ain't stand for music in decades."

Rap City ended its run on Nov. 8, 2008, after two decades of pushing hip-hop culture forward. "MTV had their show, but we were the first black show," said Prince Dejour. "I personally was not competing with them. I was having fun in my own lane."

"They would say stuff about us on MTV. They would say things about us just to boost up their ratings," he continued. "We were the only two hip-hop shows in the country and internationally. There was no other competition around, just the two of us. BET was big because we had the whole African-American community on lockdown."

1998 - E-40 Drops His Fourth Album The Element of Surprise

Rap legend E-40 has been on his independent grind and delivering his own Yay Area slanguage for over 30 years. On this day in 1998, the Bay Area vet released his fourth album The Element of Surprise on Sick Wid It / Jive Records, his first double disc CD. The collection features guest appearances from Mack 10, Busta Rhymes, Too Short, K-Ci & JoJo, as well as fellow members of The Click: B-Legit, D-Shot and Suga-T. The set's first single is "Hope I Don't Go Back featuring Otis & Shug," which interpolates Earth, Wind & Fire's 1974 song "Sun Goddess." In a 2014 interview with NPR, 40 Water explained his reasoning for dropping a double disc CD at the time. "I always like to give 'em extras, like if you was in the streets and you serving, you want to shoot 'em something extra," he said. "Whatever you doing, if you selling clothes you want to give a little bit of extra, satisfy your people."

As for staying independent in the rap game for over 30 years, E-40 credits his mother for his hustling spirit. "What drives me is having that fire in my heart. First of all, I love this. And this is my hustle. This is what I do," he said. "My momma, she worked three jobs. My daddy and my momma divorced when I was eight years old, my brother D-Shot was six, my sister Suga-T was four and my brother Mugsy was two. So I had to be like the man of the house. I seen my momma working so tough, I became a hustler like her. I got an opportunity. So why not keep going?"

1999 - LL Cool J's Sitcom In the House Ends on UPN

Before LL Cool J was a big television star on the CBS' hit series NCIS: Los Angeles, he had a short stint on a sitcom called In the House. The show premiered on April 10, 1995, on NBC and was canceled after its second season. The show was picked up by UPN, which ran for two additional seasons until it was canceled again in May 1998. Episodes of the fifth season aired in syndication from August 3–11, 1999.

Produced by the creators of The Fresh Prince of Bel-Air, the show starred Uncle L as Marion Hill a former football player who is forced to rent out most of the rooms in his house to a divorced single mother named Jackie Warren (played by Debbie Allen) and her two children, Tiffany (Maia Campbell) and Austin (Jeffery Wood). On the second season, the producers changed the show's format and had Hill run a sports clinic with former Fresh Prince of Bel-Air star Alfonso Ribeiro playing Dr. Maxwell Stanton and comedian-actress Kim Wayans playing a life coach named Tonia Harris.

Despite the show's four-year run, it wasn't a pleasant experience for some of the cast members. Ribeiro revealed that he and LL didn't get along on the show and asked to film scenes when his he wasn't on the set. "LL was about his music at the time. He was not focused on working hard as an actor," he told Access Hollywood in 2013. "Coming back to do the last season, I basically was like, 'I don't wanna do the last season.' They convinced me to do it, but I said I will do it as long as I don't have to work with LL."

After the show's cancellation, Maia Campbell fell on hard times. The actress, who has a history of bipolar disorder, was arrested multiple times for disorderly conduct. Then she was filmed on video asking for crack cocaine at a gas station. After the video went viral, LL offered to help Campbell, but she refused his kind gesture.