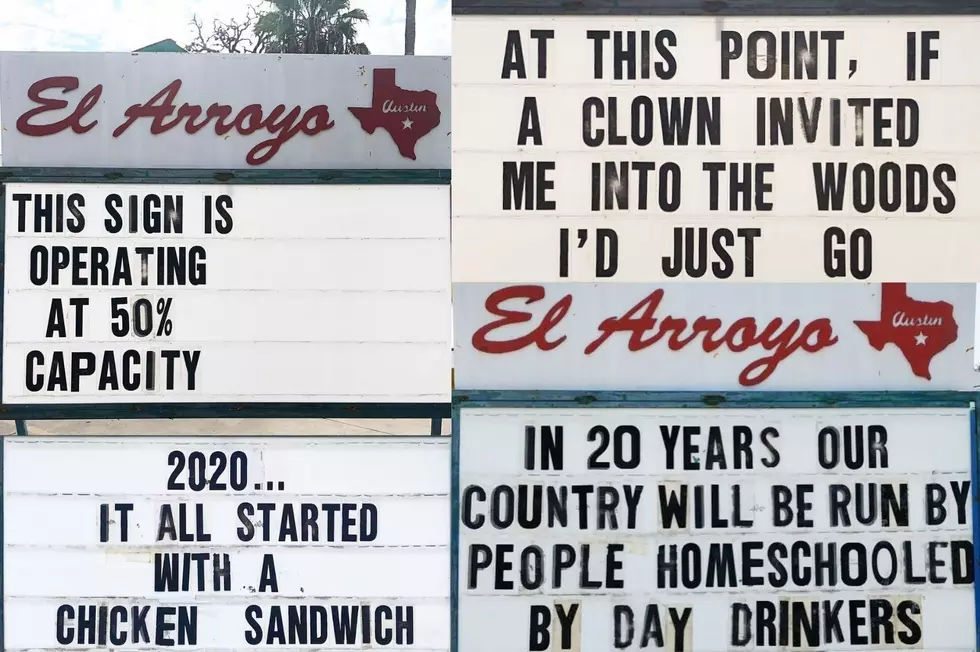 El Arroyo's 10 Best Signs During the Pandemic
el.arroyo.austin.texas
A simple sign that sits at the corner of West 5th and Campell in Austin has become a viral sensation in such a short amount of time.   El Arroyo is a small Mexican Restaurants with a run of the mill retro marquee sign sitting in the front of the building.  It's what is on the sign that has made it a social media sensation, at least in Texas.
Did you know you can order your own sign and have it shipped right to your front door!  You can also order other swag from El Arroyo including T-shirts and a gallon of hand sanitizer.  Get more information by clicking here.
Enter your number to get our free mobile app
How do they always come up with such great signs? Well, we will never know because El Arroyo keeps their writing process under wraps. If you have a sign suggestion, you submit your idea directly to El Arroyo by clicking here. You could see your message on the marquee.
During the current coronavirus pandemic, El Arroyo has stepped up their game.  They have come up with some great signs that kind of embody what we are all going through during the pandemic.  A big thank you to our friends at El Arroyo for their permission in using their photos in our article.  To see their daily sign uploads be sure you follow them on their Facebook page. 
THE BEST EL ARROYO SIGNS DURING THE PANDEMIC
Learn more about El Arroyo signs
LOOK INSIDE: Kid Rock Is Selling His Grand $2.2 Million Detroit Mansion