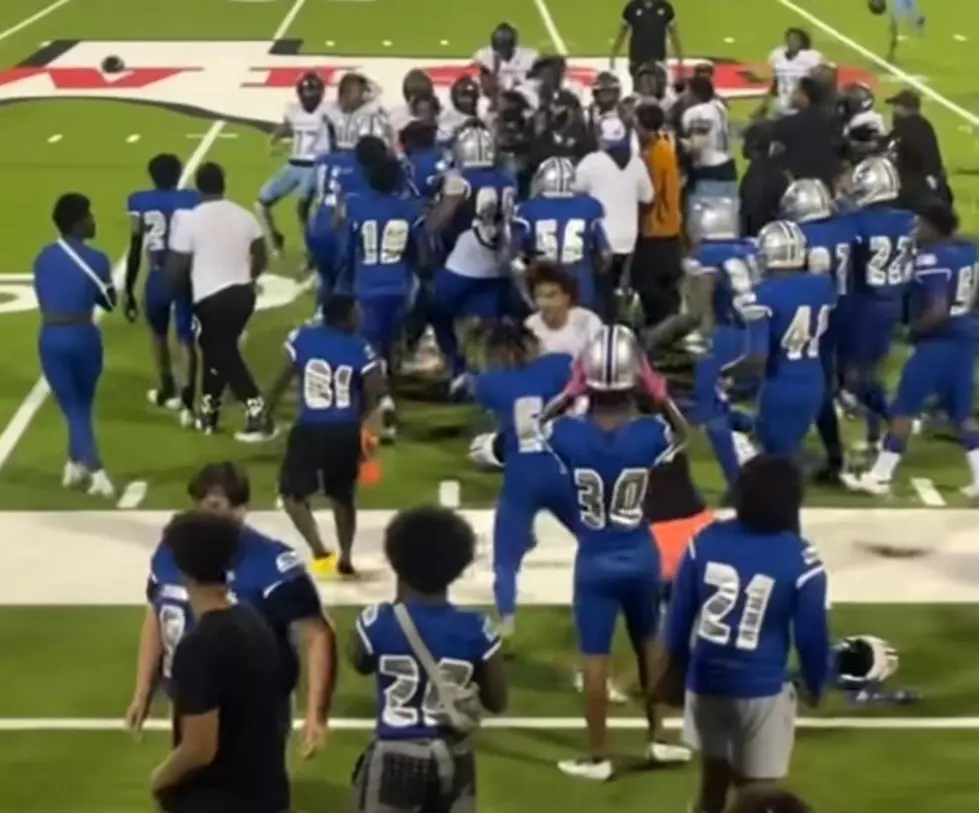 Every Player Ejected in a Texas High School Football Fight
Drew Bartley Youtube
Two high school football teams in North Texas are being investigated by the UIL after a fight broke out on Thursday, September 12th.  The two teams were Fort Worth ISD's Eastern Hills High School and Dallas Roosevelt on Thursday night. According to a report by fox4news, Eastern Hills led Roosevelt 35-12 in the fourth quarter when a fight broke out among the players for several minutes. At one point, the fighting appeared to stop, only to pick back up again. The officials eventually called the game. 

In the video, you can hear the public address announcer tell fans and parents to stay off of the field, many did not listen. Eventually, coaches and police personnel were able to stop the fight. All Roosevelt varsity players will face a half-game suspension for their role in the brawl. None of the players are expected to face criminal charges. What do you think the punishment should be?  Let us know in the Facebook comments of this status.
Fort Worth ISD released a statement to FOX 4 about the fighting.
"Our inquiry into the incident at the Thursday night Football game between Eastern Hills High School and Dallas Roosevelt High School remains active. No decision has been finalized regarding the District's response. Student safety is and will remain a priority to FWISD," it said.
Earlier this year, 21 Football Players were Suspended in Hazing Incident in Alamo Heights School District. The incident occurred in San Antonio in the Alamo Heights School District! After an internal investigation, nearly the entire Alamo Heights High School varsity squad was suspended for 2 games and also will have to serve an in-house suspension, and serve and 10 hours of community service for hazing. Read more.
Unique Texas Air B&Bs