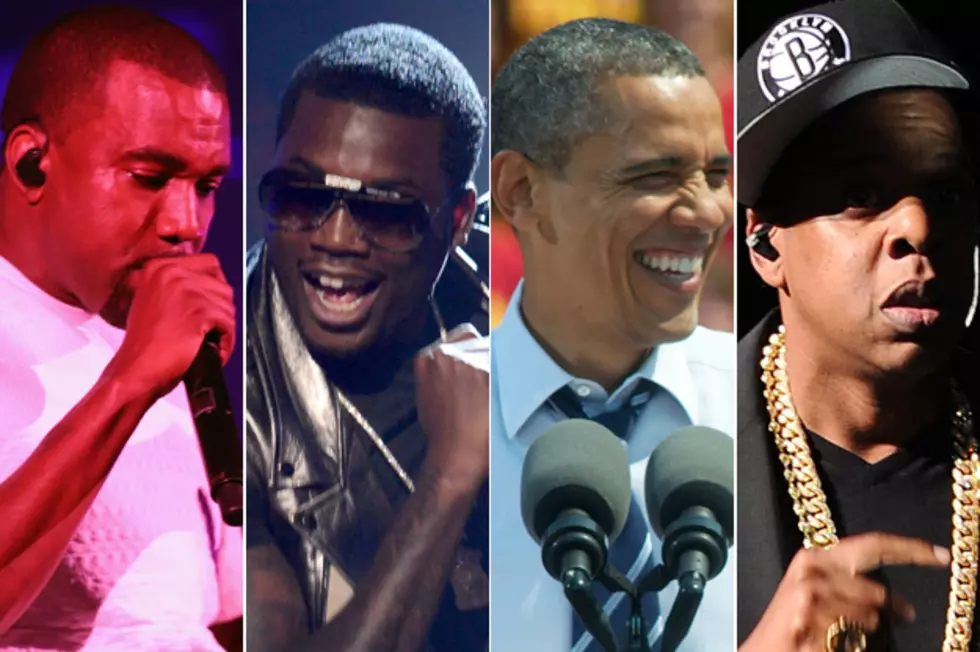 Watch Performances by Jay-Z, Kanye West, G.O.O.D. Music, Meek Mill + President Obama at Made in America Festival
Christopher Polk / Michael Buckner / David Greedy / Jason Kempin, Getty Images
Jay-Z launched his Made in America Festival this weekend in Philadelphia, which boasted performances by the biggest acts in the game — including Hov himself. Thanks to the magic of camera phones, even if you couldn't make it down to the City of Brotherly Love or weren't around to stream the show, you can still catch some of the highlights.
Drake, Rita Ora, D'Angelo, Run-DMC, Skrillex, Pearl Jam, Rick Ross, Wale and Philly native Meek Mill were all slated to perform over the long Labor Day weekend, but this is Jigga we're talking about — of course he's going to throw in some surprises. Just before he walked onstage to the chorus of 'Made in America,' Billboard reports that Jay played a recorded message from President Barack Obama urging attendees and viewers to vote, regardless of which party they supported. Obviously, we think Hov and the POTUS would prefer if you voted for the incumbent prez, but it was nice of them to at least try to appear unbiased.
During his solo set, Jay brought out Young Gunz, Freeway and Memphis Bleek to perform 'What We Do' and appeared to close out his set with his Linkin Park 'Numb / Encore' mashup. But of course, this is Jay-Z we're talking about — he does everything big.
Jigga introduced Kanye West, who made an appearance with his G.O.O.D. Music partners, performing 'I Don't Like,' 'Mercy' and New God Flow,' in addition to their solo hits, including Big Sean's 'A$$,' Common's 'Light of My Life' and Yeezy's 'Can't Tell Me Nothing.' Jay couldn't leave the crowd hanging. He and Ye closed out day one with a rollicking performance of 'N—-s in Paris.'
Another fun note? Jay-Z called the weekend "the first annual Made in America Festival." That means there will be more. That s— cray — and awesome. You can catch today's performances live on YouTube's Made in America Festival channel and at Pandora.com.
Watch President Barack Obama's Made in America Speech
Watch Drake Perform at Made in America
Watch Jay-Z Bring Out Freeway, Young Gunz and Memphis Bleek at Made in America
Watch Meek Mill Perform 'House Party' at Made in America
Watch Jay-Z + Pearl Jam Perform '99 Problems' at Made in America