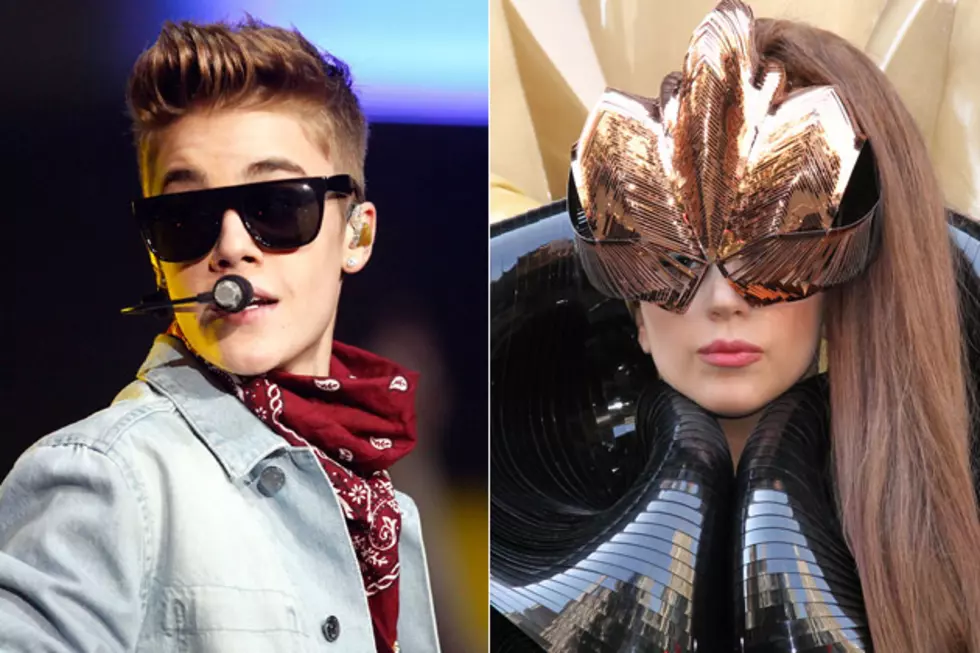 Justin Bieber Surpasses Lady Gaga as Most Followed Person on Twitter
Ben Rose / Rob Kim, Getty Images
Justin Bieber's social media efforts have paid off. The 18-year-old singer is officially the most-followed person on Twitter, dethroning fellow pop star Lady Gaga.
As of Tuesday morning, The Biebs had more than 33,328,000 followers, while Gaga was pushing 33,327,000. While all eyes are on both accounts, the numbers are fluctuating, but Bieber is still reigning over the Mother Monster.
Neither star has acknowledged the unofficial follower competition, but it's worth noting since Gaga joined Twitter in March 2008, one year before Bieber. For the last two years, the 'Born This Way' singer has been dominating the social media site, surpassing Britney Spears in 2010 with her massive following.
The Canadian heartthrob may be giving Gaga a run for her money when it comes to the tweets, but Gaga is still beating out the Biebs on Facebook. Gaga has almost 55 million Likes, while Bieber's page is clocking in just over 50 million. Rihanna, however, trumps both stars on Facebook with 65 million fans.
The Twitter follower numbers may see a spike this year since both singers are releasing new material in 2013. Bieber's 'Believe Acoustic' is arriving on January 29, and Gaga is prepping for the unveiling of her highly anticipated 'ARTPOP' LP later this year.
Watch the Justin Bieber 'Beauty and a Beat' Video