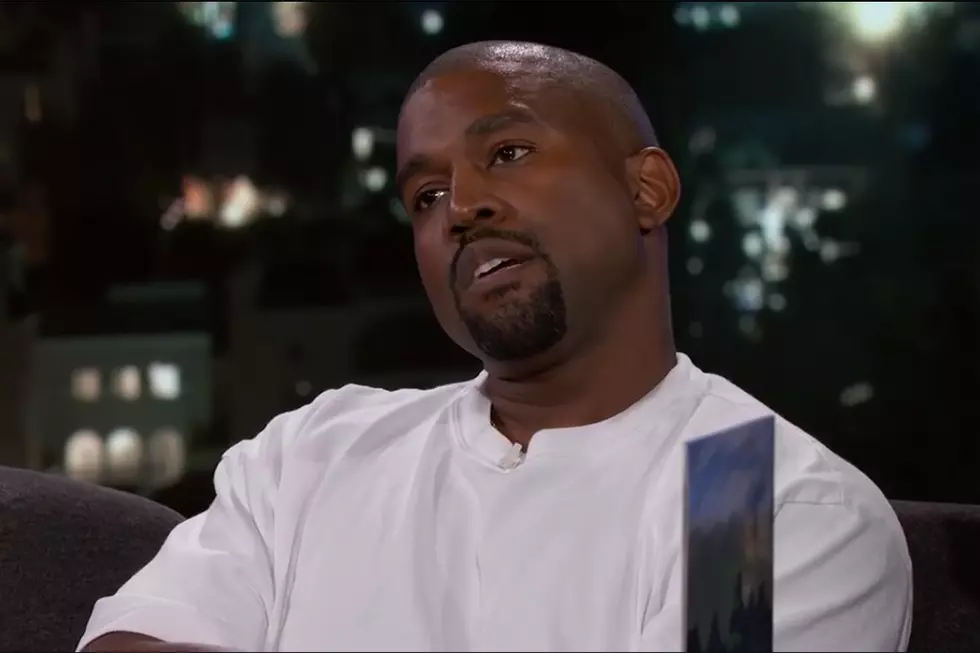 Kanye West Thinks He Wasn't Given Enough Time to Answer President Trump Question on 'Jimmy Kimmel Live!'
Jimmy Kimmel Live via YouTube
On Monday (Aug. 13), Kanye West shared a Fox News interview on his Twitter timeline, which featured former Tuscon, Ariz. police officer Brandon Tatum applauding the rapper's recent appearance on Jimmy Kimmel Live! West stood by his support for President Trump in the Kimmel interview.
Kanye West's recent appearance on Jimmy Kimmel Live! featured some fascinating insights into the mind of Yeezy, as he talked about everything from President Trump's proposed Space Force to his porn preferences and children's clothing. But one of the most interesting moments came when 'Ye appeared to be left speechless when asked a very important question. Now, he is explaining the reason for the stumped look he appeared to have.
During the interview, Kimmel questioned Kanye's support of Trump when he previously blasted George Bush in the past. "You so famously and so powerfully said 'George Bush doesn't care about Black people.' It makes me wonder, what makes you think Donald Trump does, or any people at all?" Kimmel asked.
After a few seconds of awkward pause from the rap star, Kimmel went to commercial without receiving an answer. Kanye decided to address his non-response on Saturday (Aug. 11).
"On Jimmy Kimmel we had a great time having a dialogue," Kanye posted on Twitter. "I'm reading that I was stumped by a question. Let me clarify the click bait. I wasn't stumped. I wasn't given a chance to answer the question."
He added, "The question was so important I took time to think. And then I was hit with the let's go to commercial break. That interview showed strong personalities with different opinions having a civil conversation."
Kimmel appeared to back up Kanye in a reply to the rapper's tweets. "Not every question warrants an immediate answer," Kimmel posted. "Some answers need to be considered and a talk show with time constraints is a difficult place to do that. I know how much Kanye cares and I am so impressed by what he is doing quietly and without fanfare to help those who need it."
West has yet to answer the question on Twitter or otherwise.
See Kanye's tweets about appearing stumped on Jimmy Kimmel Live! below.
See Kanye West Explain Why He Appeared to Be Stumped by President Trump Question on Jimmy Kimmel Live!