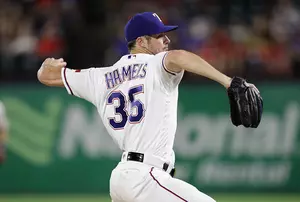 Texas Rangers Post Shutout Over Cleveland Indians
Ronald Martinez/Getty Images
The Texas Rangers blanked the Cleveland Indians 9-0 yesterday, continuing their best in the league winning percentage at .586.
Cole Hamels was outstanding on the mound giving up only 2 hits in 8 innings, retiring 19 straight batters at one point. Carlos Gomez drilled a 3-run homer to start his career with the Rangers.
In a related story, Carlos Santana plays for the Indians. No seriously, Carlos Santana is their first baseman's name.